En una cálida noche de Jueves a principios de Septiembre, 12 familias celebraron en Grace Avenida en Yeso. Hace aproximadamente cinco años, el Distrito Escolar del Condado de Eagle donó terrenos a Habitat for Humanity Vail Valley, con la intención de ayudar a los empleados del distrito escolar a encontrar viviendas seguras y asequibles.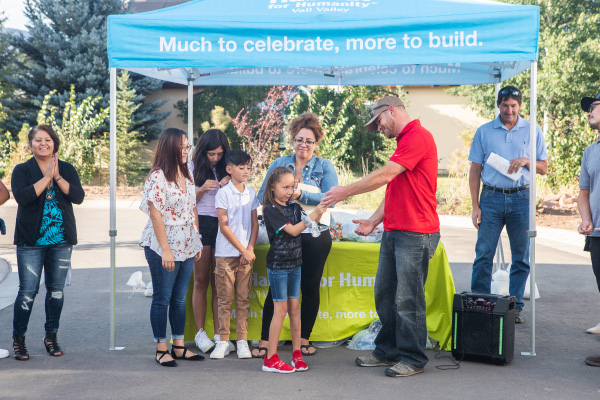 Mark Yaeger de Excel Exteriors presentando las llaves.
La intención se cumplió, primero en 2020 cuando seis familias se mudaron a sus hogares. Seis familias más se están preparando para mudarse en los próximos meses. En total, 29 niños serán parte del vecindario de Grace Avenue.
"Gracia: un regalo inmerecido gratuito; que somos un camino en su aceptación. En Habitat somos agraciados, honrados, de una manera terrenal al poder conectarnos con tantas personas increíbles (compañeros de trabajo, voluntarios, propietarios de viviendas, patrocinadores y donantes) a través de nuestra misión de ayudar a las familias locales a lograr la fuerza, la estabilidad y la autosuficiencia. a través del refugio. Todos los regalos que nos permiten hacer nuestro importante trabajo, junto con el valor de nuestros propietarios, son regalos aceptados y cultivados. Este vecindario será evidencia visible de todo y de la gracia de Dios en nuestras vidas ", dijo Mary Lynn Staley en 2018 cuando se inauguró el sitio.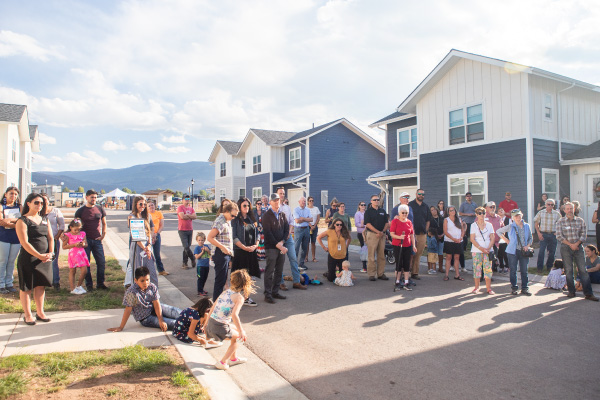 Familias, voluntarios, socios de negocios reuniodos para celebrar temprano en Grace Ave, Gypsum con Habitat for Humanity.
Grace Avenue surgió gracias a las asociaciones, la colaboración y el trabajo arduo. Los asistentes pudieron recorrer las casas que se construyeron, gracias a los numerosos socios de Hábitat. Elvia González, propietaria de una vivienda y administradora de instalaciones en ECS, compartió cómo su casa ha cambiado la vida de su familia.
"Vivir en mi casa le ha dado estabilidad y seguridad a mi familia. No tengo que preocuparme por vivir en una situación de compañero de cuarto para llegar a fin de mes. Nos ha permitido pasar más tiempo en familia juntos. Regresar a casa ahora tiene un nuevo significado para nosotros ", dijo.
Shelley Jarnot, miembro de la junta de ECS, agradeció a Habitat Vail Valley por la asociación, una asociación casi sin precedentes en todo el país que cumple la misión de ECS de proporcionar vivienda para el personal de ECS. También anunció que ECS y HFHVV acordaron recientemente los términos de un nuevo proyecto en 3rd Street en Eagle.
"Esperamos que sean los primeros muchos proyectos que se asocien", dijo. "A veces, el trabajo en la junta escolar puede tener que ver con la política y lejos de las vidas de los niños. Su maravilloso evento fue un recordatorio tangible de por qué hacemos el trabajo que hacemos. Hábitat debe enorgullecerse de la asociación única que se creó con el distrito y de ser un líder y ejemplo para ayudar a otras ubicaciones de Hábitat a comenzar este importante trabajo ".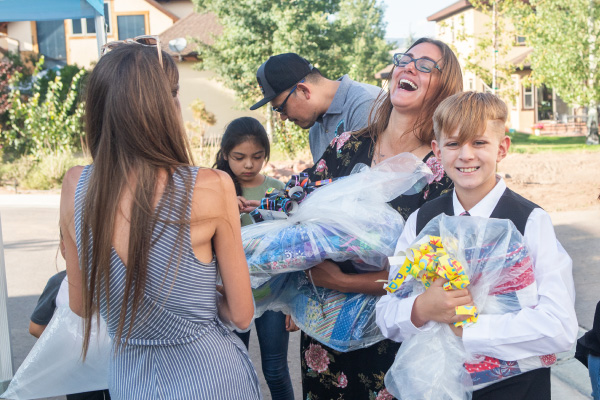 Cada miembro de nuestra family reciben sabanas hecha a mano por nuestros voluntarios de Habitat for Humanity.
El Padre José María Quera bendijo a las familias, los hogares y a quienes ayudaron a hacer de las casas una realidad, diciendo que juntos, como comunidad, hacemos grandes cosas: hacemos el trabajo duro, desde un lugar de abundancia, para que las familias tengan un techo sobre sus cabezas.
El vecindario es mucho más que un grupo de casas. Los propietarios se cuidan unos a otros, se ayudan y han creado una comunidad. Los niños corren de un lado a otro de la calle en bicicletas y scooters con perros detrás. Hay una ligereza que proviene de las familias: es fácil ver que están todos en casa.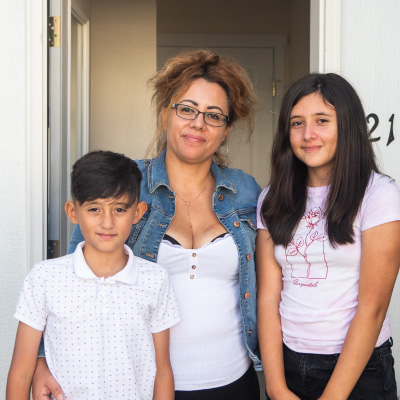 ¿Quiere convertirse en propietario de una vivienda de Hábitat? ¡Tenemos un programa para ti! Aceptamos solicitudes para empleados del distrito escolar y para otros residentes del condado de Eagle que trabajan duro. Hay requisitos: debe ganar una cierta cantidad, tener crédito al día y estar dispuesto a asociarse con Hábitat. Obtenga más información y presente su solicitud aquí.
Habitat for Humanity Vail Valley es el único constructor de viviendas permanentemente asequibles en Eagle River Valley. Ahora, más que nunca, es necesario ayudar a las familias locales trabajadoras a encontrar fuerza, estabilidad y autosuficiencia a través de un hogar. En julio, Hábitat inició la construcción de su casa número 100, que alberga a más de 300 niños. Las familias trabajan junto con los voluntarios y el personal de Hábitat para construir sus hogares. Obtenga más información: www.habitatvailvalley.org.

---
On a warm Thursday night earlier in September, 12 families celebrated home at Grace Avenue in Gypsum. About five years ago Eagle County School District donated land to Habitat for Humanity Vail Valley, with the intention of helping school district employees find safe, affordable housing.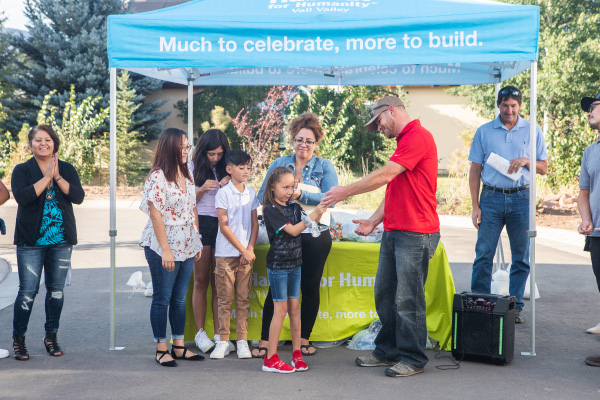 Mark Yaeger from Excel Exteriors presenting the key.
The intention was fulfilled, first in 2020 when six families moved into their homes. Six more families are readying to move in within the next few months. In total 29 children will be part of the Grace Avenue neighborhood.
"Grace: A free unmerited gift; that we are a path of in its acceptance. We at Habitat are graced, honored, in an earthly way by being able to connect with so many amazing individuals (co-workers, volunteers, homeowners, sponsors and donors) via our mission to help local families achieve strength, stability and self-reliance through shelter. All of the gifts that allow us to do our important work, along with the courage of our homeowners, are gifts accepted and grown. This neighborhood will be visible evidence of it all and of God's grace in our lives," Mary Lynn Staley said in 2018 when the site was dedicated.
Grace Avenue came about thanks to partnerships, collaboration and hard work. Attendees were able tour the homes that were built, thanks to Habitat's many partners. Elvia Gonzalez, a homeowner and facilities manager at ECS, shared how her home has changed her family's lives.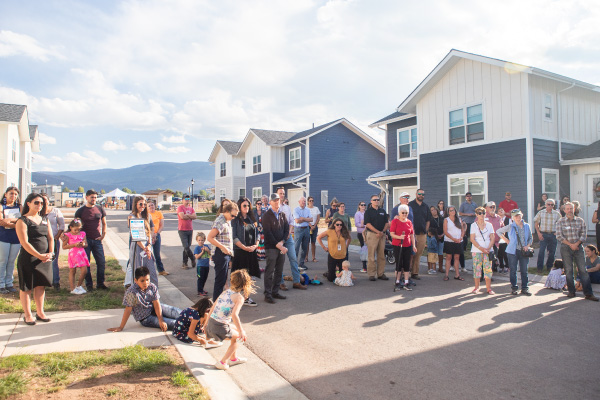 Habitat Vail Valley, families, volunteers and business partners gather to celebrate home earlier this month at Grace Avenue in Gypsum.
"Living in my home has given my family stability and security. I don't have to worry about living in a roommate situation to make ends meet. It's allowed us to have more family time together. Coming home now has a new meaning to us," she said.
Shelley Jarnot, ECS board member, thanked Habitat Vail Valley for the partnership—very nearly an unprecedented one nationwide that fulfills ECS' mission of providing housing for ECS staff. She also announced that ECS and HFHVV have recently agreed on the terms of a new project on 3rd Street in Eagle.
"We hope it's the first of many projects partnering," she said. "Sometimes the work on the school board can feel all about policy and far from the lives of kids. Your wonderful event was a tangible reminder of why we do the work we do. Habitat should take great pride in the unique partnership that was created with the district, and in being a leader and example to help other Habitat locations to start this important work."
Father Jose Maria Quera blessed the families, the homes and those who helped make the houses a reality, saying together we as a community do great things—we do the hard work, from a place of abundance, so families have a roof over their heads.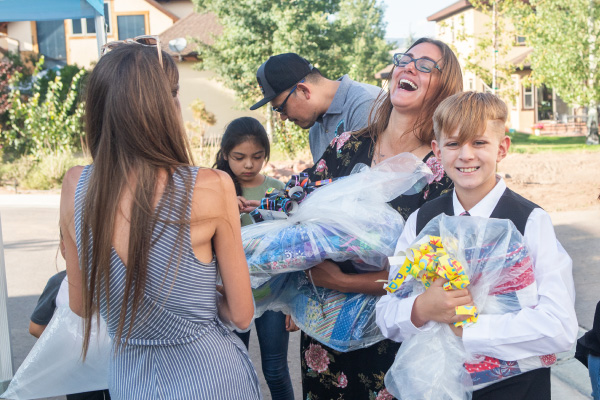 Every member of each family receives a quilt crafted by Habitat volunteers.
The neighborhood is so much more than a cluster of homes. The homeowners watch out for each other, help each other and have created a community. Children race up and down the street on bikes and scooters with dogs trailing behind. There's a lightness that comes from the families—it's easy to see that they are all home.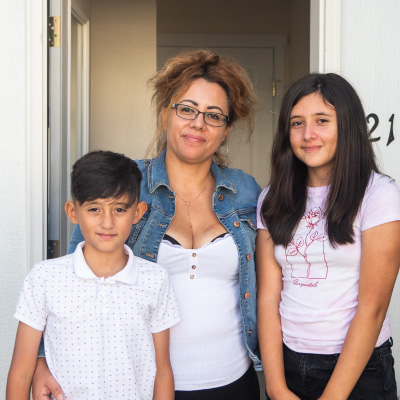 Do you want to become a Habitat homeowner? We have a program for you! We are accepting applications for school district employees and for other hardworking Eagle County residents. There are qualifications: you must earn a certain amount, have good standing credit and be willing to partner with Habitat. Learn more and apply here.
Habitat for Humanity Vail Valley is the only builder of permanently affordable homes in the Eagle River Valley. Now, more than ever, it's necessary to help hardworking local families find strength, stability and self-reliance through a home. In July, Habitat broke ground on its 100th home, housing more than 300 children. Families work alongside volunteers and Habitat staff to build their homes. Learn more: www.habitatvailvalley.org.