SOS Outreach Continúa Comprometido Sirviendo la Juventud del Condado de Eagle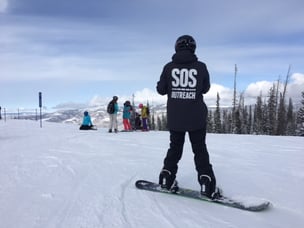 EDWARDS, CO. — SOS Outreach (SOS), una organización nacional de desarrollo juvenil sin fines de lucro, se encuentra en medio de su 27 temporada de programas. SOS prestará servicios a 15 comunidades en 22 centros turísticos de montaña en todo el país, incluidos Vail Mountain y Beaver Creek Resort en el condado de Eagle, brindando experiencias al aire libre de apoyo, tutoría de adultos constante, habilidades de liderazgo y oportunidades para que los jóvenes subrepresentados marquen una diferencia en sus comunidades.
"Los programas SOS están demostrando ser más esenciales que nunca", dice Courtney Walters, gerente de programas del condado de Eagle. "La pandemia global ha sacudido a nuestro país con impactos duraderos en los participantes a los que SOS sirve. Hemos visto a nuestros hijos enfrentarse a inmensas dificultades a medida que se perdieron trabajos familiares, se redujeron importantes recursos, la estructura estable de la escuela se volcó y un sentido de normalidad se puso patas arriba. La pandemia ciertamente nos está afectando a todos, pero la inequidad que se expone para los niños que ya luchan con las barreras sociales, económicas y sociales se amplifica aún más ahora ".
SOS sirvió a más de 400 jóvenes del condado de Eagle este invierno en su programa introductorio Learn to Ski / Ride, programa progresivo de mentores de cuatro años y programa final de mentores de pares. La organización solo ha mejorado sus asociaciones durante la crisis de COVID, incluso con organizaciones sin fines de lucro como The Community Market y Salvation Army que sirven como recursos importantes para las familias locales. Estos socios brindan días de servicio significativos donde los jóvenes SOS completan proyectos prácticos que mejoran nuestro valle.
"En mi opinión, SOS es un programa que todos necesitan en su vida porque es básicamente su segunda familia", dice Diego P., un participante del programa de mentores de pares del condado de Eagle de 16 años.
El programa Peer Mentor de SOS brinda la oportunidad para que los participantes asuman un papel de liderazgo, cerrando el círculo para orientar a los niños más pequeños en sus primeros años de SOS. Hacer una diferencia en la vida de los jóvenes más jóvenes y devolver esa misma compasión, camaradería y empoderamiento demuestra la fuerza de la comunidad SOS.
"SOS es especial porque el programa siempre te hace sentir cómodo y bienvenido", agrega Diego. "No me veo tan bien como lo estoy haciendo ahora si no fuera por SOS. Ser parte de SOS me hace sentir que he logrado logros en mi comunidad y, en general, me hace sentir como un líder ".
La organización sin fines de lucro opera con un modelo de programa intencional de 10 años que cultiva habilidades sociales y emocionales para sentar las bases para futuros exitosos. Los jóvenes como Diego son capaces de aplicar eficazmente los conocimientos, valores y actitudes necesarios para comprender y manejar las emociones, establecer y lograr metas positivas, sentir y mostrar empatía por los demás, establecer y mantener relaciones positivas y tomar decisiones responsables. Este enfoque es clave para empoderar a los jóvenes para que prosperen, especialmente en este panorama incierto.
Según el director ejecutivo, Seth Ehrlich, la organización sin fines de lucro está presenciando un aumento récord en el número de familias que solicitan asistencia financiera en el condado de Eagle para la temporada 20/21. Casi dos tercios de las familias registradas solicitaron becas para continuar con los programas de SOS; los padres, afectados por los desafíos financieros de la pandemia, comparten que les resulta más difícil mantener a la familia porque los recursos son más limitados.
Una madre soltera que perdió su trabajo comparte: "Mi hija ha estado aprendiendo únicamente en línea desde marzo de 2020 ya que tiene un alto riesgo de contraer COVID-19 y está realmente luchando. Ella es una aprendiz en persona y está teniendo REALMENTE dificultades para separarse de sus compañeros. Necesita la estructura, el contacto y el apoyo moral / emocional que ofrece SOS ".
Estamos comprometidos a brindar ese apoyo a todos los niños a los que servimos. SOS se enorgullece de decir que no hemos rechazado a un solo joven debido a problemas financieros. Hemos fortalecido nuestras asociaciones nacionales y comunitarias para asegurarnos de que estamos satisfaciendo las necesidades de cada participante donde se encuentran. Juntos, somos un recurso fundamental para nuestra juventud, nuestras familias y nuestra comunidad.
Desde la fundación de la organización con Vail Resorts en 1993, SOS ha empoderado a más de 70,000 jóvenes para que descubran su máximo potencial, con casi un tercio de esos jóvenes del condado de Eagle. Para obtener más información sobre las formas en que puede apoyar la misión de SOS, visite sosoutreach.org.
Acerca de SOS Outreach
Fundado en asociación con Vail Resorts, SOS Outreach ha transformado las vidas de más de 70,000 jóvenes desatendidos desde 1993. Si bien brindar experiencias de recreación al aire libre para tantos niños es impresionante, es solo una demostración parcial del impacto de SOS. Utilizando una combinación única de experiencias de aventuras al aire libre, tutoría positiva de adultos y oportunidades de desarrollo de liderazgo, SOS permite a los participantes liberar todo su potencial para prosperar. Sirviendo a 4,000 jóvenes cada año, en 15 ubicaciones en 9 estados, SOS brinda oportunidades de crecimiento personal para los niños de nuestras comunidades que más lo necesitan. Para obtener más información, visite www.sosoutreach.org. Contact: Rebecca Gould rgould@sosoutreach.org 970.471.5384
---
SOS Outreach Remains Committed to Serving Eagle County Youth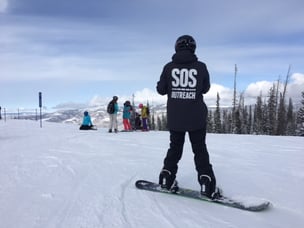 EDWARDS, COLO.— SOS Outreach (SOS), a national youth development nonprofit, is in the midst of its 27th season of programs. SOS will serve 15 communities at 22 mountain resorts across the country, including at Vail Mountain and Beaver Creek Resort in Eagle County—providing supportive outdoor experiences, consistent adult mentorship, leadership skills and opportunities for underrepresented youth to make a difference in their communities.
"SOS programs are proving to be more essential than ever," says Courtney Walters, Eagle County's program manager. "The global pandemic has rocked our country with lasting impacts on the participants SOS serves. We've seen our kids face immense hardships as family jobs have been lost, important resources reduced, the steady structure of school upended, and a sense of normalcy turned upside down. The pandemic is certainly affecting us all, but the inequity it exposes for kids already struggling with social, economic, and societal barriers is further amplified now."
SOS serving more than 400 Eagle County youth this winter in its introductory Learn to Ski/Ride program, progressive four-year Mentor program, and Peer Mentor capstone program. The organization has only enhanced its partnerships during the COVID crisis, including with nonprofits such as The Community Market and Salvation Army that serve as major resources for local families. These partners provide meaningful service days where SOS youth complete hands-on projects that enhance our valley.
"SOS in my opinion is a program that everyone needs in their life because it's basically your second family," says Diego P., a 16-year-old Eagle County Peer Mentor program participant.
SOS' Peer Mentor program provides the opportunity for participants to take on a leadership role, coming full circle to mentor younger kids in their early years of SOS. Making a difference in the younger youth's lives—and returning that same compassion, camaraderie, and empowerment—demonstrates the strength of the SOS community.
"SOS is special because the program always makes you feel comfortable and welcome," adds Diego. "I don't see myself doing as good as I currently am if it was not for SOS. Being a part of SOS makes me feel like I have made accomplishments in my community and overall makes me feel like a leader."
The nonprofit operates with a 10-year intentional program model that cultivates social and emotional skills to lay the foundation for successful futures. Youth like Diego are able to effectively apply the knowledge, values, and attitudes necessary to understand and manage emotions, set and achieve positive goals, feel and show empathy for others, establish and maintain positive relationships, and make responsible decisions. This approach is key in empowering youth to thrive, especially in this uncertain landscape.
According to executive director, Seth Ehrlich, the nonprofit is witnessing a record-breaking increase in the number of families applying for financial assistance in Eagle County for the 20/21 season. Nearly two-thirds of registered families requested scholarships in order to continue SOS' programs—hard hit with the financial challenges of the pandemic, parents share that they're finding it more difficult to support the family as resources are tighter.
A single mother who lost her job shares, "My daughter has been solely online learning since March 2020 as she is high risk for COVID-19, and she is really struggling. She is an in-person learner and having a REALLY difficult time being separated from her peers. She needs the structure, contact and moral/emotional support that SOS offers."
We're committed to providing that support to every child we serve. SOS is proud to say that we haven't turned away a single youth due to financial challenges. We've strengthened our national and community partnerships to ensure we're meeting the needs of each participant where they are. Together, we're a critical resource for our youth, for our families, and for our community.
Since the organization's founding with Vail Resorts in 1993, SOS has empowered more than 70,000 youth to discover their full potential, with nearly a third of those youth from Eagle County. For more information on ways you can support SOS' mission, visit sosoutreach.org.
About SOS Outreach
Founded in partnership with Vail Resorts, SOS Outreach has transformed the lives of over 70,000 underserved youth since 1993. While providing outdoor recreation experiences for that many kids is impressive, it's only a partial demonstration of SOS' impact. Using a unique combination of outdoor adventure experiences, positive adult mentorship, and leadership development opportunities, SOS enables participants to unleash their full potential to thrive. Serving 4,000 youth each year, across 15 locations in 9 states, SOS provides opportunities for personal growth for the kids in our communities who need it most. To learn more, visit www.sosoutreach.org. Contact: Rebecca Gould rgould@sosoutreach.org 970.471.5384