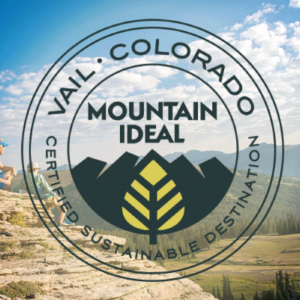 Today, Vail announced their certification as a sustainable mountain resort destination. Vail is the first destination in the world to be certified to the Mountain IDEAL sustainable destination standard. Additionally, Vail's adherence to the Global Sustainable Tourism Council's (GSTC) destination criteria makes it the first Certified Sustainable Destination in the United States certified by a GSTC-Accredited certifying body, Green Destinations. The conditional certification is the result of a multi-year partnership between the Town of Vail, Walking Mountains Science Center, Sustainable Travel International, Vail Resorts, The U.S. Forest Service, and others. It marks the culmination of 56 years of leadership by the Vail community in progressive environmental conservation policies and programs.
"Recognizing that mountain destinations are acutely threatened by climate change, waning freshwater resources, and seasonal tourism peaks, Vail has made important strides in balancing the needs of its delicate ecosystem with the wants of travelers and the local community," said Geoff Bolan, CEO of Sustainable Travel International.
Like many mountain resort destinations, Vail's economy is highly dependent on tourism. While the town is home to just under 5,500 local residents, it welcomes 2.8 million guests annually. Since the ski area's founding in 1962, and the Town's founding in 1966, Vail has focused on balancing tourism growth with local environmental and community needs.
It has taken many years to work towards the sustainable destination certification, which builds upon Vail's long history of environmental conservation. Notable past achievements include the protection of open space being written into the Town Charter of 1966, the creation of the Vail Nature Center and Preserve in the 1970's, and the creation of the 1% Real Estate Transfer Tax (RETT) in the 1980's which improves parks and open space for recreation opportunities and further supports environmentally sustainable practices. More recent achievements include its proactive approach to restoring the water quality of Gore Creek and Vail Resort's ambitious commitment to a zero net operating footprint by 2030.
"Over the years, the Town of Vail and community partners have taken steps to embed sustainability into the destination's operations and throughout the entire visitor experience," said Kristen Bertuglia, Environmental Sustainability Manager for the Town of Vail. "As a result, tourism development in Vail happens in a manner that protects nature, improves residents' well-being, and preserves cultural heritage."
"Alongside the tremendous leadership displayed by our community, Vail Resorts is well on our way to carry out our ambitious Commitment to Zero by 2030," said Doug Lovell, chief operating officer for Vail Mountain. "We look forward to working alongside our fellow sustainability leaders to achieve both our company and community goals and are proud of the accomplishments that we've achieved so far through our partnership, including this prestigious certification."
The Path To Becoming The First Sustainable Mountain Resort Destination In The World
In advance of the 2015 FIS Alpine World Ski Championships held in Vail and Beaver Creek, the Town of Vail set out to achieve a lofty sustainability milestone: becoming the first destination in the United States to be certified to the GSTC destination standard. To achieve this, a multi-year partnership was established between the Town of Vail, Walking Mountains Science Center, and Sustainable Travel International.
The first step included launching Actively Green, a sustainability training and certification program for local businesses designed by Sustainable Travel International and run by Walking Mountains Science Center. To date, over 216 businesses have participated in the trainings and 57 businesses have been certified. In 2018, the Actively Green standard achieved "GSTC-Recognized" status.
The collaborative partnership also led to the development of the Mountain IDEAL destination standard. This standard has also achieved "GSTC-Recognized" status, meaning that the specific guidelines within the Mountain IDEAL standard used to implement sustainability at the destination are considered equivalent to a global standard.
"It was evident while working with Vail early on that traditional sustainable destination certifications were not completely viable for a mountain resort with large scale winter operations and a seasonal influx of both tourists and employees. While there were many positive elements and the groundwork existed, we realized we needed to use the GSTC Criteria to develop a new standard that would be better suited for not only Vail, but other mountain resort destinations in the future," explained Kim Langmaid, Founder and Vice-President at Walking Mountains Science Center and Vail Town Council Member.
"The Mountain IDEAL standard supports mountain resort communities in advancing a sustainable development agenda. The standard addresses challenges faced in most mountain resort destinations including: managing impacts from overtourism, managing recreation on public lands, protecting vast watersheds and preserving scenic views, developing year-round employment and affordable housing, and embracing the unique mountain cultural heritage," said Bobby Chappell, Senior Director of Standards and Monitoring at Sustainable Travel International.
Vail will continue to monitor and improve sustainability practices to maintain their Mountain IDEAL destination standard and their actions will continue to evolve and improve over time.
In July 2017, Green Destinations conducted an onsite assessment of Vail. Through a rigorous process, Green Destinations auditors reviewed documentation, interviewed key stakeholders, and completed a thorough evaluation of Vail's overall approach to sustainable destination management. Following a months-long certification process, Vail was officially certified to the Mountain IDEAL standard in December 2017 making it the first sustainable mountain resort destination in the world. Vail is also recognized as the first Certified Sustainable Destination in the United States because Green Destinations is a fully Accredited GSTC Certification Body.
"We've recognized for a long time that Vail is a global leader in sustainable mountain tourism. This certification is a much-deserved testament to our community's achievements. We hope it encourages other destinations to adopt the Mountain IDEAL standard and leads to increased collaboration around sustainability in mountain resort destinations," said Langmaid.
For additional information or media inquiries, please contact:
Paul Abling
Director of Marketing & Communications
Walking Mountains Science Center
970.688.4250
paul@walkingmountains.org
###

About Sustainable Travel International
Sustainable Travel International is a non-profit organization working to improve the lives of people around the world and the environments they rely upon. By leveraging the power of tourism and providing business and government leaders with the guidance, policies and solutions they need, we aim to ensure that the communities they're engaged in thrive and their environments are healthy for future generations. Sustainable Travel International has been at the forefront of sustainable destination management and sustainable tourism standard development for over 15 years. www.sustainabletravel.org
Media Contact: Kaitlyn Brajcich, Communications Manager, kaitlynb@sustainabletravel.org
About Town of Vail
Under blue skies more than 300 days each year, Vail is an extraordinary mountain resort destination. Vail is where outdoor pursuits meet village sophistication. Offering more than 5,280 acres of developed ski and snowboard terrain including seven legendary Back Bowls in winter, and flourishing summer recreation complemented by unparalleled arts and events, the options for year-round adventure are endless. Coupled with the vision inherent in the spirit of Vail's founders, and a modern day commitment to excellence in all aspects of guest service and operations, Vail is a mountain destination like nothing on earth. Visit Vail.com for more information.
Media Contact: Suzanne Silverthorne, Director of Communications SSilverthorn@vailgov.com
About Walking Mountains Science Center
Walking Mountains Science Center is a 501(c)3 non-profit based in Avon, CO and their mission is to awaken a sense of wonder and inspire environmental stewardship and sustainability through natural science education. Their sustainability department provides the Eagle County community education and coaching through their Energy Smart, Actively Green, Eco Schools and Zero Waste programs. Most recently Walking Mountains facilitated the creation of the Climate Action Plan for the Eagle County Community and is supporting the Town of Vail through the ongoing Sustainable Destination project. www.walkingmountains.org
Media Contact: Paul Abling, Director of Marketing & Communications paul@walkingmountains.org
About Green Destinations

Green Destinations is a non-profit organization of experts and destination ambassadors working in 80 countries. Green Destinations supports the world's largest community of local, regional and country destination managers and stakeholders, enhancing destination sustainability, market visibility, and tourism quality. Green Destinations developed a complete, affordable and easy-to-use Assessment & Certification program that fits the needs of both small and larger destinations. It is operated through an online Assessment & Reporting platform based upon the GSTC-Recognized Green Destinations Standard and the GD Database with data from 2000 destinations. The GD platform helps destinations to improve sustainability management and performance, and it facilitates the validation of pre-certification benchmark awards (Bronze, Silver, Gold, Platinum) for various standards (QualityCoast, Mountain IDEAL and national standards) and strategic development progress, also in relation to the UN Sustainable Development Goals.