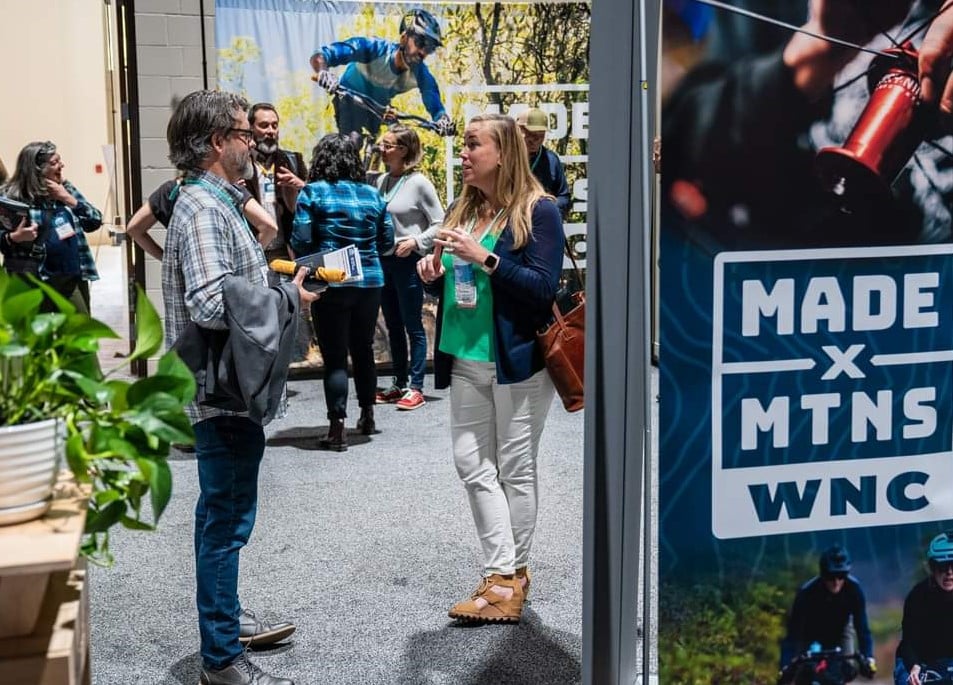 Photo courtesy of Steven Reinhold at The Appalacian Adventure Company. Bobby Chappell and Amy Allison, Director of the North Carolina Office of Outdoor Recreation.
"It's a message that resonates."
Gateway communities aren't just iconic entry points to national parks. Gateway communities can be any jumping off point to access public lands such as US Forest Service or BLM lands, state parks, or large waterways. What usually makes these communities unique are the abundance of hospitality services aka tourism. And gateway communities are at a crossroads. Their key visitor assets, public lands, are being loved to death. The heart and soul of their community, residents, are being squeezed out as the popularity of their destination grows. Plus, climate impacts are shifting every aspect of the life within these towns.

Gateway communities are embracing "destination stewardship" as a transformational model to encourage responsible recreation on our public lands and respectful visitation within these communities. Destination stewardship convenes diverse stakeholders to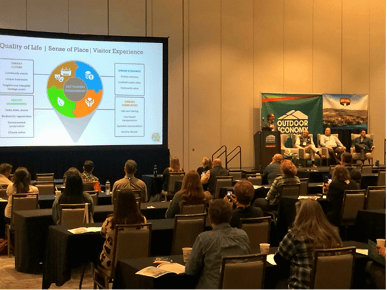 identify common goals and act on behalf of community assets. With a foundation rooted in stewardship, destinations are better equipped to advance sustainable and regenerative tourism that result in greater net positive outcomes at the local and landscape levels.

The Mountain IDEAL team has been busy the last few weeks sharing this exact message at events around the country (in person!). Bobby Chappell, Melissa Kirr, and Kim Langmaid had the privilege to speak at four events in three states to share the impact of the Mountain IDEAL program and the importance of destination stewardship and sustainable destination management. The team collectively engaged with dozens of destinations and hundreds of attendees generating an overwhelming positive response for the Mountain IDEAL program.

Here's a quick synopsis of the events and sessions:

Outdoor Economy Conference; Cherokee, North Carolina
MI Team Member Bobby Chappell: Track Organizer and Session Moderator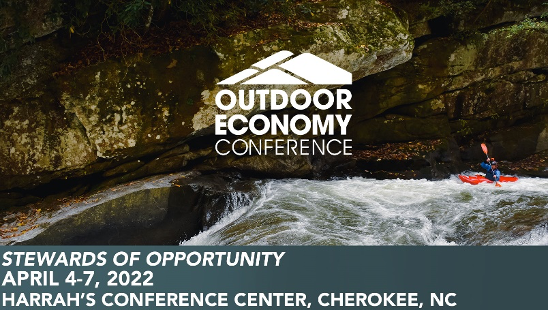 The Outdoor Economy Conference connects, educates, and inspires leaders and doers working to grow the outdoor industry and craft an economy that's intimately tied to environmental and community well-being. This year's theme is "Stewards of Opportunity", with a focus on how we can consciously grow our outdoor recreation industry with sustainability, longevity, diversity and inclusion at the strategic forefront. This year's event took place in Cherokee, North Carolina, on the Sovereign Nation of the Eastern Band of Cherokee Indians. Over 600 people, representing 24 states and 3 sovereign nations made this event the largest economic development conference in North Carolina and solidifies the state as an outdoor industry leader.

The four-day event included hands-on workshops hosted by Leave No Trace and International Mountain Biking Association (IMBA), a Higher Education Summit, and field excursions. The core conference had four tracks, each with four breakout sessions.

Bobby Chappell helped organize one of the tracks (Sustainable Outdoor Recreation Tourism) which included four excellent breakout sessions: Models & Case Studies; Visitor Use Monitoring & Management; Outdoor NC's Leave No Trace Campaign; and Inclusive Outdoor Recreation. He moderated the Models & Case Studies session along with three esteemed panelists: Tracy Brown, CEO Blowing Rock TDA; Clark Lovelace, CEO Transylvania County TDA; Scott Bricker, VP Destination Development Travel Oregon. The focus of this informative session was to introduce the attendees to destination stewardship, Mountain IDEAL best practices, and how each destination is advancing stewardship and sustainability in their community with strategic planning, conservation funding, and visitor management.

Mountain Travel Symposium; Vail, Colorado
MI Team Members: Melissa Kirr, Moderator; and Kim Langmaid, Keynote and Moderator

The Mountain Travel Symposium (MTS) is the largest and longest running annual gathering of mountain travel professionals in the world and considered the most important event for the ski industry. More than 1,000 representatives from 35+ countries establish relationships, build their business, pursue professional development and create stronger mountain communities. The weeklong event was hosted by Vail, Colorado, the birthplace of Mountain IDEAL.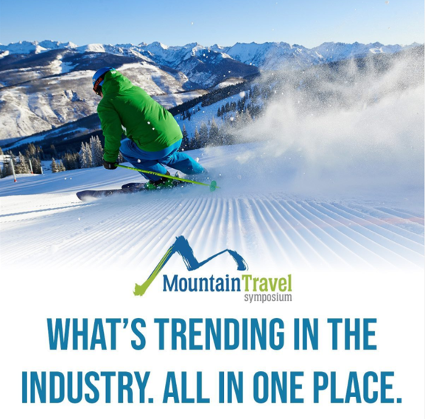 Our very own Mayor Kim Langmaid opened the event with her Welcome to Vail address and later kicked off the MTS Sustainability Series highlighting Vail's journey towards the certification to the Mountain IDEAL.

The MTS also includes Destinations@MTS forum which are interactive, executive level sessions that highlight trends, best practices, and case studies from destinations around the world. There were two timely sessions this year: sustainable tourism and housing.

The sustainable tourism session was moderated by Melissa Kirr, Senior Programs Director of Sustainability at Walking Mountains Science Center and included a panel of distinguished destination managers: Lucy Kay, CEO of Breckenridge Tourism Office; Rachel Brown, Executive Director of Visit Durango; Tim O'Donoghue, Executive Director of the Riverwind Foundation; and Beth Markham, Town of Vail Environmental Sustainability Coordinator. The interactive workshop provided tools, strategies and pathways to integrate sustainable tourism concepts and protect destinations. Topics of presenters include destination management, resident sentiment, attraction protection, and trail ambassador campaigns.


Visit NC State Tourism Conference; Durham, North Carolina
MI Team Member: Bobby Chappell, Panelist

The Visit NC 365 Conference brings together tourism leaders for the state's premier travel industry event and provides opportunities to gain expert insights on the latest trends and issues. This year's event showcased the new program Outdoor NC, the official statewide program and partnership with Leave No Trace.

Bobby Chappell, along with Amy Allison, Director of the NC Office of Outdoor Recreation; and Palmer McIntyre of Piedmont Land Conservancy participated on a panel moderated by Andrew Leary and Faith Overall of Leave No Trace. Read LNT's blog here.


Conservation Finance Network Roundtable; Des Moines, Iowa
MI Team Member: Bobby Chappell, Panelist

The Conservation Finance Network (CFN) advances land and resource conservation by expanding the use of innovative and effective funding and financing strategies. CFN's Roundtable is an intimate, cross-sector dialogue that brings together leading market development practitioners to address common obstacles and advance new conservation finance tools, with the goal of improving environmental performance and conservation outcomes.

Bobby Chappell was a panelist discussing how outdoor recreation can be a catalyst for rural economic development and how tourism can finance visitor use management strategies that enhance the conservation of our public lands.

We are already booking events for September and have tentatively scheduled our next Mountain IDEAL Learning Series for November 2nd.