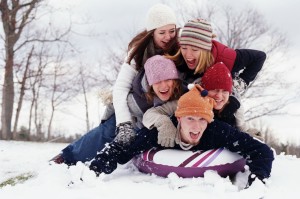 To me, winter is the accumulation of everything I love about the natural world frozen and put on display, crystalline and shimmering. Bird song seems more vibrant as it echoes off snow-covered cliff sides and tracks left in fresh powder reveal to us the past marchings of wild things. Right around this time, mid-January, the winter season seems to settle in. Snow hangs like thick frosting on the trees, clinging to the crossroads of bare branches and duster-top grasses. Everything looks like clean, white linen, enlisting a feeling of new beginnings and adventure. This season just begs to be explored!
If you are tired of waiting in long lift lines and weaving through the mass of bodies barreling downhill, you have more options than hibernating inside your house. Tis the season of new beginnings after all, so how about trying some new winter adventures this year!
Explore the Colorado Backcountry:
A sure fire way to escape those lift lines and get some of the best, untouched powder is to ski, splitboard or snowshoe the back country. Many places will rent out backcountry sets and guide you to the best trails. But if you're up for a real work-out, cross-country skiing is an entirely different beast! I consider myself a pretty good downhill skier and went into my first cross-country ski adventure with a head full of confidence. I remember sweating more than I thought possible in that temperature. Any slight downhill turn on these super skinny skis seemed to catch me off guard and left me with a face full of powder. Laughing was necessary just to get all the snow out of my mouth. For those of us hikers out there who don't want to take a break from the solitude of getting out on the trail, snowshoeing is a must. For me, it is important to spend time feeling the snow crunch beneath my feet. This activity reminds me to slow down and listen to the sounds of winter wildlife and watch the way the sunlight makes the snow sparkle.
Vail and Beaver Creek Ice-Skating:
If you are one who loves old-fashioned winter activities, than why not take an ice-skating outing? Nothing feels more traditional to the season than gliding hand-in-hand with someone special, round and round a glistening ice rink. There are lots of ice rinks around to choose from, many of them surrounded by the hustle and bustle of shopping centers, cafes and fireplaces for that truly winter wonderland appeal.
Colorado Ice-Fishing:
For the more rugged winter adventurer, I have been told that this activity isn't really about the fish at all! Winter anglers reap the most placid of the season's rewards: tranquil landscapes, animal encounters, and early morning sunlight bouncing along the frozen water. There are many places where you can simply set your chair down and cut a hole or you can find an ice-fishing cabin to rent. Don't forget to get a fishing license first!
Colorado Dogsledding:
When I think of dogsledding, I immediately think of the far north towards Alaska, but the activity is becoming more popular than ever here too! Think of the excitement of barking dogs eagerly speeding you along the trail, the wind whipping in your face as you yell "mush" at the helm of the sled. I can't imagine a more exhilarating winter (not to mention multi-cultural) experience.
Vail Hut Trips:
Every winter, all of us at Walking Mountains Science Center get together for a staff hut trip. This is our way to bond as a staff, reaffirm our shared vision and mission, and have a ton of winter fun. The 10th Mountain Division has an extensive backcountry hut system that allows for overnight opportunities while out on your skis or snowshoes. If you are looking for a wonderful way to adventure together with a group of family or friends, hut trips are a winter exploratory experience for the ages.
Whether you love winter for its exceptional scenery and tranquility or for its fast downhill thrills, there is something for everyone. Winter is the "start fresh" season and a perfect time to reach outside of our comfort zones. If you are used to spending most or all of your free time riding the lifts, remember that there is so much more to do. Get back to the basics and build a snowman, have a good old fashioned snowball fight, or build a quinzee hut and try to spend the night in it. Who knows, you may find a new passion this winter season. The opportunities really are as endless as your imagination.
Nicole Abrams is the Avon in-School and Girls in Science Coordinator at Walking Mountains Science Center. She loves her responsibility of fostering a sense of place in the natural world for all her students. Nicole enjoys writing, reading, and soaking up sunshine in her spare time!