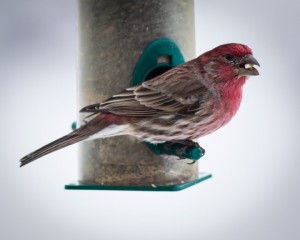 Winter oh winter, you're almost here, let's raise up our glasses for a frosty Colorado cheer! We cheer to skiing, mittens, cocoa and more, but one more thing we cannot ignore…. Our birds that stay and brave the cold, are in need of our help, is what I am told, so here is this article just for you, so that we may all help our feathery friends get through!
Feeding birds is a great hobby that benefits both you and the birds. For us, birds provide endless entertainment and beauty, while we provide them with food, water, and shelter, all especially important in the winter months when the days become shorter and the nights grow cold and long. Many of the food sources that birds rely on, such as insects and grains, begin to disappear in the winter, and birds start to look for alternatives. For many birds, these alternatives include winter berries that are still present and easy to find, but this has its downfalls. Birds that eat too many berries in the winter need to make sure they have a designated flier on call because, in high quantities, these winter berries can cause little birds to become intoxicated from the fermented juices! So if you would like to assist in lowering FWIs (flying while intoxicated), and help our feathered friends to survive and thrive this winter, then follow these easy winter bird feeding suggestions.
The type of bird food you put out is important. Provide food with a high calorie count that requires the least amount of work. Black-oil sunflower seed is an all-around great seed to offer; with a thin shell and twice as many calories as striped sunflower seeds, they are ideal for a winter time snack. You can display these seeds in many types of feeders. Platform feeders are most likely to attract wrens, chickadees, and jays. Whereas ground feeders are beneficial to sparrows, juncos, mourning doves, and even some woodpeckers that tend to do their foraging on the ground. Hanging feeders, because they sway in the wind, are usually visited by birds with a strong grip such as chickadees, nuthatches and finches. Feeders should be placed somewhere near cover, and out of the wind on the east or southeast sides of your yard if possible. Coniferous, or evergreen trees, are especially favored by birds for cover this time of year due to their thick, year-round foliage, which protects birds from the cold winds and from lurking predators.
Suet is another valuable food source for birds in the winter. Suet is a high energy, pure fat substance that is relied upon heavily by birds when the insects they use for protein begin to disappear. Resident woodpeckers, such as hairy, downy and red-naped sapsuckers are especially attracted to this food source. The high fat content of suet can also be supplemented with a healthy snack of peanuts or peanut butter. In moderation, peanut butter can be great for birds with its high calorie count. Not only is it great for the birds, it can also be fun for you. If you are looking for a way to make your yard more festive, create a craft for the kids, and help the birds, then try building your own pine cone bird feeder! Pine cone bird feeders are a simple and fun way to enjoy and attract backyard birds this winter. All you need is a pine cone, twine, peanut butter, and bird seed. Once you tie the twine to the pinecone, cover it in peanut butter, and then roll it in a mixture of seeds. Now you just need to pick a location and you can sit back and enjoy your feathery visitors! Happy Birding Everyone!
McCale Carter is a designated nature nerd from Minnesota who took the move to Colorado to join the Walking Mountains Science Center team as a naturalist. She can often be found out on the trails, reading a good book, searching for frogs and snakes, or dreaming about her first ski season here in CO!