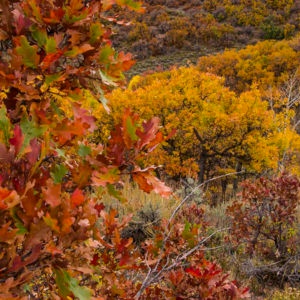 The monsters of the eastern forests are no Sasquatch—instead they are the massive and mighty oaks, growing many feet in diameter and over a hundred feet tall. The dozens of oak species native to North America have long been treasured for their majesty, but here in Colorado we do not have any of the East or West coast giants. The only oak tree native to Colorado is the small, bushier Gambel Oak, Quercus Gambelii. Also known as a Scrub Oak, the Gambel Oak generally grows low and bushy in mountain foothills. That's not to say it is less important than its more massive relatives. Let's take a look at why, of the well over 50 oaks native to N. America, only a single species grows naturally in the state of Colorado.
To best understand the oaks, or lack thereof, in Colorado we need first learn why "oak" is such a widely recognized type of tree. The largest forest type in the United States is the Oak-Hickory forest covering a range from northern New York, south to Florida and West to Iowa and Texas with isolated pockets in many other states, especially California. Wherever they grow, oaks tend to dominate the forests with their massive trunks and long, bending limbs that can tower over 100 feet above the forest floor. When alone in a field, oak trees often grow incredibly wide with branches larger than most trees, curving toward the ground and then bending back up. Many of the large oaks in the U.S. date back to the Colonial times or earlier with trunks up to ten feet wide. Thanks in part to its iconic majesty, the oak was named the national tree of the United States in 2004.
Despite the many species and their ability to grow in a wide range of habitats, you will not find any giant and ancient oaks here in the state of Colorado. The Gambel Oak is much more suited for the harsh winters and dry summers of the Rocky Mountains. The Gambel Oak grows only a fraction of the size of its enormous relatives with a maximum size ranging between only 30-40 feet tall and a crown 10-20 feet wide. To put that in perspective, some large oak trunks can grow to 10 feet in diameter with crowns spreading out 75 feet or more! Unlike its larger relatives, the small size of the Gambel Oak allows it to thrive in fire-prone mountain foothills where you can often find large areas dominated by the bushy tree. Being smaller means it needs less water and can withstand higher winds and heavier snow, necessary adaptations for the unforgiving conditions of the Rocky Mountains. Like its eastern relatives, many animals depend on the fruit of the Gambel Oak—acorns—to survive through the winter. Squirrels, chipmunks, deer, and bears all rely on acorns as a protein-rich food source as they fatten up in the fall and prepare for winter. Countless other animals count on the strong and hearty shrubs for protection from the elements and predators. But wild animals are not the only users of Gambel Oaks, humans have used the Gambel Oak for centuries for food, clothing (acorn buttons), building material, and firewood. Today, many people use chopped oak leaves as a fantastic mulch which helps keep water in and slugs out of your garden.
Next time you see an oak—be it a shrubby gambel or colossal red—remember their importance not only to us but to all of the various animals of the Rocky Mountain region. Despite its smaller size, the Gambel Oak is certainly still a Mighty Oak.
Paul Leininger is a Naturalist and Sustainability intern for Walking Mountains Science Center. Paul wishes to share his passion for the nature around us from coast to coast through an engaging and inspiring natural science education.