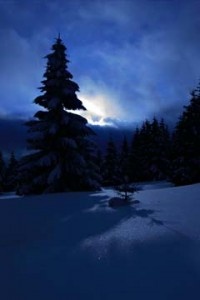 When I was in college, there was a large dry erase calendar on the wall in the biology department hallway. Students, faculty, and staff used the board to record their observations of the natural world as events on specific days of the calendar. Some of my favorites to watch for were the first snowfall, first spring wildflower blooms, and first muddy bare footprints on campus. A calendar like this is called a phenology calendar and it allows us to better understand the events and trends in the natural world.
Phenology is the study of cyclic and seasonal natural phenomena, especially in relation to climate, plant, and animal life. Individuals or groups who keep track of their personal observations year-to-year may recognize similarities and differences in the timing of a certain bird species returning during the springtime, or the appearance of elk on the hillsides above Minturn. I know many skiers and snowboarders who compare fall snow conditions to previous seasons as an informal tracking of phenology.
In winter, it often seems that there is not a lot going on in the natural world. However, if you were to start keeping a notebook or calendar to record observations from your kitchen window or on your morning dog walk, you might be surprised how much activity is out there. What are the birds doing at the feeder? What species of birds are here? What animal tracks can be identified in the snow? When do the buds on the trees start growing or opening in springtime?
Winter is often referred to as the "long winter's nap." And while it's true that some species are hibernating and others have flown away, there are many mammals, birds, and even insects that remain active throughout this cold season. These local winter residents have changed their behaviors to adapt to the weather, snow, and shorter days. Chickadees are a great example of a year round bird resident who thrive during winter. Adaptations like the ability to go into nightly hypothermia, hiding food caches, and heat retention strategies help increases their chances of survival.
For scientists, the practice of documenting phenology provides us with concrete data demonstrating changes in the world around us. For example, there are now 23 fewer days with freezing temperatures than before the 1980s and 61% of North American birds have shifted their wintering grounds northward since the 1960s. At the Rocky Mountain Biological Lab near Gothic, CO, Billy Barr has been documenting snowfall, weather, and nature observations for the past 40 years. At first he recorded data to keep from becoming bored in his cold, wintery, isolated world; but now his records have scientific applications, especially when looking at climate trends.
Most people aren't like Billy Barr and probably won't consider the ritual of measuring and documenting snowfall and precipitation twice a day, every day, for the next four decades. However, think about how you can open your eyes to the world around you. What patterns will you identify? What species will you discover in your backyard? How do human behaviors respond to weather events? In what ways could your sense of connection to the greater Eagle River Watershed enrich your life?
All it takes to start to broaden your awareness is a notebook and pencil. Even if you don't know how to identify plants or birds, making and recording observations about color, shape, size, and behavior can be enough to get started. A number of web resources, like Project BudBurst, eBird, and the Community Collaborative Rain, Hail, and Snow Network (CoCoRAHS), provide the opportunity for citizens to submit observations and data collected in their own communities to widespread phenology forums. By making the recording of your observations a regular practice, you may just discover a new hobby!
Lara Carlson is the Community Programs Director at Walking Mountains Science Center. She's always interested to hear stories of visitors' observations from their Eagle Valley outdoor explorations. Stop by Walking Mountains Science Center to learn how to begin collecting data for the Community Collaborative Rain, Hail, and Snow Network in your backyard.