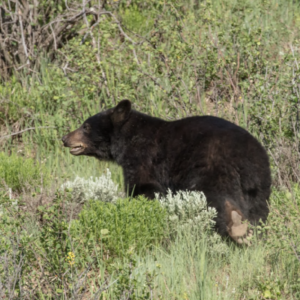 As we flip our calendars to June and longer days turn the hillsides from snowy white to grassy green, people are emerging squinty-eyed from their schools and homes explore the summer activities the valley has to offer. However, humans aren't the only ones to start exploring their surroundings as the snowpack vanishes. Our local bear population is awake and active now, which means wildlife authorities are working to ensure peaceful coexistence between all of Vail's residents and visitors, including those with fur and fangs!
Sharing our neighborhoods with the local black bear population may sound intimidating to some, but there are measures we can take to ensure the safety of both ourselves and the bears. Many things that we keep in and around our homes that can act as bear attractants. Items such as garbage cans, bird feeders, berry bushes, compost, grills, and pet food should be carefully stored to prevent odors from attracting bears to the area. Using bear-proof cans for trash and compost, hanging bird feeders where bears cannot access them, cleaning and storing grills in garages, and keeping dog food inside are just some of the actions we can take to decrease bears' interest in our homes. Odors inside the home can attract bears as well, so it is important to close doors and windows tightly when leaving a building to avoid finding unexpected guests upon your return.
While black bears may have learned to forage for food in our trash cans, they haven't completely adapted to the suburban lifestyle. Many bear encounters in the mountains still occur where you'd most expect them; on the trail. Few people prefer trudging through rough shrubs and grasses to strolling on a neatly maintained trail, and bears feel the same way, so it's not uncommon for them to use our hiking trails to get around. To avoid bear encounters when hiking, be alert and watch for bears and signs of bears, such as scat and tracks. Bear tracks are blocky, large, and have five toes with visible claw marks. Bear scat is often tubular and found in piles, with visible berries, twigs, fruit skins, and seeds. Be cautious in areas with fresh scat and tracks and always try to make noise when hiking to avoid sneaking up on or startling a bear.
Some cartoon bears may be happy to join in on a picnic, but we don't want real bears crashing our family reunions. To prevent unwelcome bears when camping and picnicking, always store food in bear proof containers (many area campgrounds provide storage lockers for food), in a fully sealed car, or hang a bear bag off the ground and out of a bear's reach. Food odors can linger for much longer than humans can smell, so it's important to keep food out of tents and to dispose of wastewater far from human-use areas to keep anyone from sniffing around.
Even with the best preventative measures, bears can still get curious and come to check out what easy food they might be able to find. In the event of a black bear encounter, stay calm and be sure the bear is aware of your presence by speaking to it in a steady, firm tone. Back away from the bear slowly, never run from the bear, and keep an eye on the bear to watch for signs of aggression. If a bear isn't eating human food or damaging property, it is safest for us and the bear to simply allow it to leave the area peacefully.
Haley Baker is a Naturalist and Sustainability Intern at Walking Mountains Science Center. She credits her passion for bears and all other things nature to the adventurous parenting skills of her mom and dad!