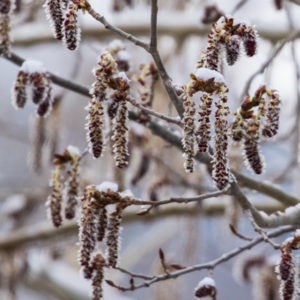 Can you hear the trumpets blaring? Can you see the flags unfurling? No? That's because as springtime begins its march across the landscape, its first signs are subtle, like the colorless catkin "flowers" of the Aspen and Cottonwood trees and the silent uncurling of fern leaves. The onslaught of colors will come later, after the stage has been set with longer daylight and melting snowfields. These first traces of new life springing forth represent the beginning of much to come, inspiring poets to write and artists to create, with their foreshadowing of more beauty soon to come.
But let's not get ahead of ourselves … these early earthly delights are still beautiful and poetic in their own right. A short foray along Buck Creek this morning revealed that so much is already going on. Along the banks of the creek, I found the first little leaves coming up. There were mountain bluebells, with their soft, purple-tinted leaves forming rounded little tufts of greenery amid the mud. Nearby, the first tiny leaves of cow parsnip have also sprouted; and it's hard to believe how soon these miniatures will grow into the gargantuan leaves of the mature plant.
The most exciting surprise that I found sprouting in the understory of the willows was the thick, leathery leaves of some early wintergreens. I'm not sure why I find the wintergreens to be such interesting plants – maybe it's because they are relatively rare, as many have very specific soil conditions necessary for their growth (some are even parasitic), or maybe it's the delicacy of their flowers. So many plants have tall, showy flowers that shamelessly flaunt their beauty, but the wintergreens are small, low-growing plants that frequent moist, shady spaces. They tend to have fragile, bell-shaped flowers that look like little Chinese lanterns dangling elegantly from the single stem. Don't think about nibbling on these little woodland charms, though; they're not the plants that give us the wintergreen oils used in mints and gum.
With my first glance of the upper story, the trees and shrubs by the water's edge, everything appeared dormant. As I inched closer, though, I could see buds opening up everywhere. There were chokecherry trees, with tufts of leaves starting to peak out of tightly wound buds. The rabbitbrush, generic shrub of the sage fields, was even starting to put out its narrow, clustered leaves. And then, as I moved in even closer, I saw the leaves of a few wild rose bushes starting to grow. It's a beautiful and reassuring sight, the spring leaves making their emergence after a long, cold winter, even if it wasn't really that cold.
This summer, like all summers, will bring its own unique set of challenges. The lack of snow in the high country forebodes a hot, dry season, and we would be wise to heed fire bans and other cautions. But despite the ominous snowpack, bright green rays of hope gleam everywhere, in the form of spring leaves beginning to look skyward, preparing to continue their life-sustaining role of converting the sun's energy into usable and delicious sugars. However, water is a precious ingredient in all these chemical reactions, and there are surely more challenges ahead for these green machines. The showcase of wildflowers this season may be briefer than usual, so keep your eyes tuned and make sure you don't miss a minute of it.
Jaymee Squires is the Director of Graduate Studies at Walking Mountains Science Center. She is looking forward to getting outside this spring, because somebody has to watch the plants grow.