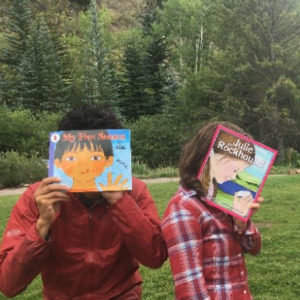 There are so many reasons to read aloud to your children, it would be hard to list them all. Research has shown that reading together can boost a child's vocabulary and comprehension, engage bonds between parents and children, and be an all around fun activity.
Stories have the power to bring emotions and experiences to life. It is through books that children can start learning and understanding new and varied perspectives. When you introduce books about nature to your repertoire you can help your children connect with the world around them. Books about local flora, fauna, and landscape can introduce a sense of place and connect children with their home environment. Stories about animals will help students develop empathy for the natural world.
One way to bring stories to life is to read to your child outside. Grab your children, a blanket, and a copy of the The Giving Tree, By Shel Silverstein and read aloud underneath a tree in your backyard. You can take If You Are a Looker of Fossils by Byrd Baylor up to the fossil beds of McCoy. Over and Under Snow by Kate Messner is a great story to read before heading out to ski.
Some of our favorite nature picture books include:
The Other Way To Listen

By Byrd Baylor
The Lorax

By Dr. Seuss
Do Princesses Wear Hiking Boots?

By Carmela Coyle
The Tiny Seed

By Eric Carle
For older kids
My Side of the Mountain

By Jean Craighead George
Hatchet

By Gary Paulsen
Girls Who Looked Under Rocks

By Jeannine Atkins
Kristen's Wilderness: A Braided Tale

By Garrett Conover
The Eagle Valley Library is a great resource of available books for kids. You can find a library in Gypsum, Eagle, or Avon. If you live in Vail, check out the Town of Vail Public Library. Many of the books mentioned above can be found at one or more of these libraries. If they don't have the book you are looking for then you can ask the library to inter-library loan it from another library.
20 Great Adventures is a mini blog series by Walking Mountains Science Center's Youth Programs staff to celebrate the organization's 20th anniversary of providing natural science education to the Eagle Valley. Click here to view them all!
Kate Trudeau is an Educator at Walking Mountains. She enjoys exploring the woods, connecting with nature through writing, and is a huge fan of the Eagle Valley Library System.