"Crikey, Mate!" - an enthusiastic expression heard in households throughout the world from the mid-late 90s and the early 2000s was more than a phrase to describe Steve Irwin's excitement when finding and rescuing animals (especially crocodiles), but a phrase that inspired budding conservationists all around the world. To honor the memory and birthday of the famous "Crocodile Hunter," as well as his enthusiasm for introducing the wonders of the natural world to a generation of captivated admirers, the world was invited to celebrate National Wildlife Day on February 22.
According to the official website for the event, National Wildlife Day was founded in 2005 by animal advocate, conservationist and author, Colleen Paige, to bring awareness of all living creatures on Earth, from crocodiles to cephalopods, while emphasizing the need for protection of endangered animals. National Wildlife Day strives to acknowledge zoos and animal sanctuaries globally for everything they do to help preserve this planet's animals and educate the public about conservation. Celebrating National Wildlife Day can provide opportunities to attend or support events at local zoos or wildlife sanctuaries, but it also has many intrinsic benefits for us.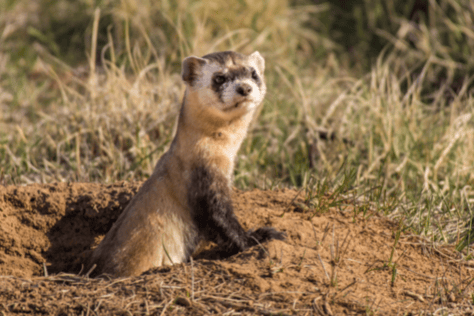 The black-footed ferret is making a comeback in Colorado after being rescued from the brink of extinction in the mid-1980s.

As humans, we need to remember to take time to pause and reflect. Celebrating wildlife reminds us to stop and take time to get outside and appreciate all facets of nature. Wildlife is also life-affirming. Wildlife can remind us that we all are tasked with finding the right balance between ourselves and the world we inhabit. Celebrating National Wildlife Day also reminds us of the alarming numbers of endangered animals and habitats, encouraging preservation and conservation efforts.
"Education is all about being excited about something. Seeing passion and enthusiasm helps push an educational message and leads to conservation" stated Irwin (1997). Stemming from countless hours of work with crocodiles and venomous reptiles, Irwin's passion and enthusiasm for wildlife has permeated throughout the world, influencing children and adults alike. Sentiments including "I wanna be just like him" and "I want to save all of the animals," were murmured as Irwin served as the face for future conservationists and it is evident that Irwin's impact has moved far beyond the Australian Outback and can even be found here in Colorado. This National Wildlife Day, Coloradans had the opportunity to reflect on Irwin's dedication to wildlife and Paige's special connections with endangered animals by celebrating their states' endangered species.
While exploring Colorado you might have encountered a plethora of animal species from bald eagles soaring above to moose wading in shallow alpine lakes. However, not every animal species calling Colorado home is faring well in our modern world. Habitat loss due to an increasing demand for development, as well as the impacts of climate change have led to a prolonged drought and other natural disasters that pose serious challenges to survival for some Colorado species. According to Colorado Parks and Wildlife (CPW), Colorado is home to eight federally endangered species including the southwestern willow flycatcher, the Colorado pikeminnow and the black-footed ferret. In addition to these federally endangered species, eight state endangered species struggle for survival including the boreal toad, kit fox and the suckermouth minnow. Curious about other protected species? A complete list of federally and state endangered species can be found on CPW's website.
Learning about Colorado's endangered species and their vital connections to the ecosystem is a fantastic way to celebrate National Wildlife Day and support wildlife throughout the state. Did you miss out on celebrating wildlife on February 22? Don't worry! In order to double the effort to help bring awareness of wild animals around the globe, September 4th of each year is also celebrated as National Wildlife Day. Acknowledge the next National Wildlife Day by getting outside, exploring, learning about and observing the wildlife here in Eagle Valley, of course from a distance.
Dustin Hall is the School Programs Manager at Walking Mountains Science Center. Some of his favorite wildlife to celebrate on National Wildlife Day includes bighorn sheep, the American bison and black capped chickadees.
---