'Tis the season for tree skiing! Earlier in the winter, our beloved aspen and conifer stands hosted many obstacles hiding beneath the shallow base of powdery snow. Today, however, we have a protective snow layer shielding our skis from the treacherous rocks and fallen trees that lie below the surface. That being said, skiing in the trees is equally dangerous as it is thrilling. Whether you are avalanche trained to ride in the backcountry or just beginning to explore tree gaps at a resort, skiing through trees should not be attempted without proper knowledge. Regardless of base layer depth, tree skiing requires focus, agility, and caution. As with any extreme sport, a lot of practice is needed to really enjoy the forested winter wonderland.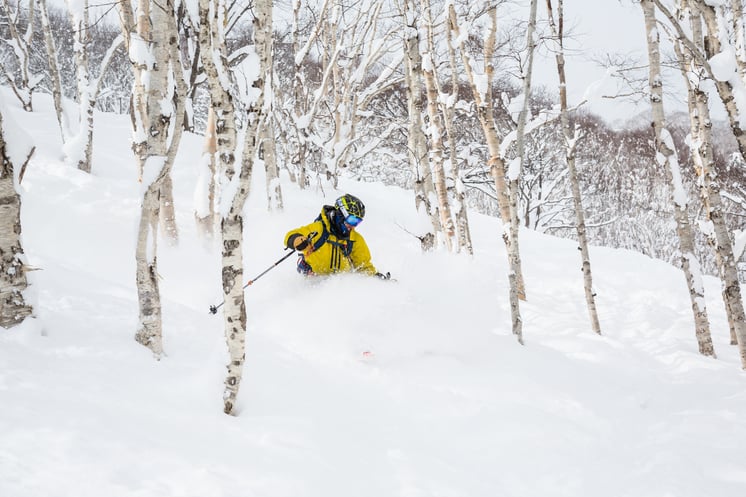 Alpine Skiing through "tree runs" as they are called by many.

If you are not yet enthralled with carving through forests, you may be wondering, what's so great about tree skiing anyways? Depending on who you ask, answers can range from adrenaline fulfillment to wanting to avoid the crowds on the groomers. For most, it can be agreed upon that there is something special about recreating among the giants that provide life to all inhabitants of the mountains.

Those that have delved deep into the world of alpine skiing and snowboarding know that not all trees are created equal. Each forest provides an entirely different experience. In Colorado, you can slide through spruce forests, fly through the firs, and play in the pines. Vastly different from the conifer experience is skiing in aspen glades. Some mountains are lucky to have a plethora of options for both types of forest experiences. Skiing in the aspen glades is vastly different from the conifer experience. Without the dense greenery at the base of the trees, the aspens are wide open, letting in plenty of light and distant visibility. That being said, conifer forests might be better on blizzardy days to provide some wind cover and they often hold the powdery snow longer after a storm.

As fun as it is to enjoy our opportunity to ski in trees, it is important to understand the importance of their presence. In the development of any ski resort, forests face extreme changes and our recreational enjoyment comes at the cost of ecosystem health. Ski slopes are created in one of two ways, a forest can be cleared or graded. A graded slope is a lot more harsh on the environment since it uses heavy machinery to bulldoze the area, not only clearing all trees in its path but taking away all other vegetation and depleting the top layers of soil. Cleared slopes cut the trees to soil level and leaves seed banks intact and small shrubs remain undamaged. The roots of the remaining vegetation keep the top layers of soil intact, allowing for more plant growth and diverse vegetation to support wildlife and the balance of a fragile mountain ecosystem. In both scenarios of tree removal, the functionality of the ecosystem and forest habitat is degraded and can impact humans in the process. Trees also serve as natural avalanche mitigation by inhibiting weak snow layers from forming continuously, reducing the chance of avalanche release.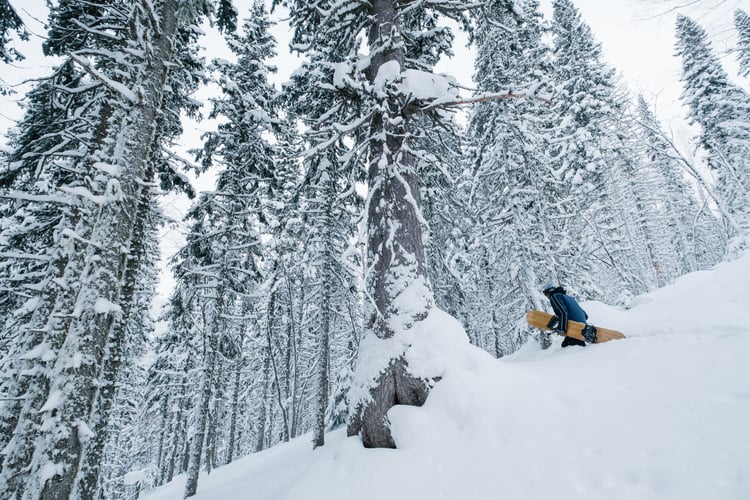 Snowboarders can also enjoy the adrenaline rush of riding through trees.
There really is something special about riding through the same trees that clean our air, protect water quality by reducing erosion, and create a home for incredible species that live in balance with the rest of the ecosystem. Trees are so much more intelligent than we know, from exchanging messages of danger through the fungal root systems that connect them, to sharing nutrients to protect neighboring trees. Always recreate with respect, wear a helmet, and ride with a buddy.
---