Conduciendo nuestra clase a lo largo de la costa de California para una excursión de geología, mi profesor universitario una vez dijo que la causa más común de muerte de geólogos es un accidente automovilístico. Este fue sin duda una estadística maquillada, pero le dio el razonamiento lógico que mientras se conduce, se siempre mire por las ventanas y se pregunte "¿qué (en blanco) ¿ es eso? "
Con una sola unidad a lo largo de I70, locales, visitantes y geólogos por igual pueden echar un vistazo a su ventana y observar la curiosa naturaleza de todas las misteriosas rocas, picos y cañones. ¿Cómo los procesos dinámicos de levantamiento, fallas y erosión crearon paisajes tan diferentes y únicos? En pocas palabras: ¿qué (espacio en blanco) es ese (y cómo se formó)?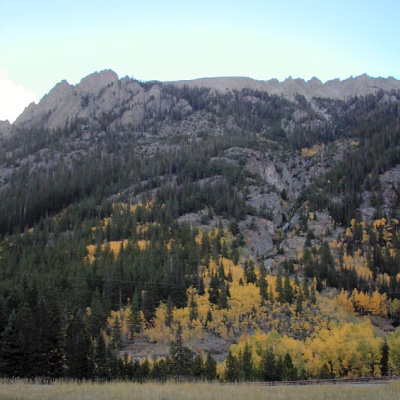 Final del Norte del Cañón de Tenmile.
Explorar el bello Eagle County detrás de mi propio volante me ha llevado a comprender completamente la afirmación de mi profesor. En muchos viajes he deseado el asiento de la escopeta y un convertible con techo hacia abajo para disfrutar completamente de los alrededores. Entre Vail y Frisco, dividiendo la Cordillera Gore de la Cordillera Tenmile, se encuentra el Cañón de Tenmile. Debido a procesos geológicos únicos, el tramo de la I70 a través del Cañón Tenmile presenta un paisaje peculiar pero asombroso que es bastante único.
El levantamiento inicial de las Montañas Rocosas durante la Orogenia Laramide creó la base de las montañas en Colorado. A partir de este evento de construcción de montañas, Gore y Tenmile formaron una cadena continua. Desde entonces, las cordilleras se han dividido por fallas para formar un cañón que expone el núcleo de estas montañas y la roca metamorfoseada.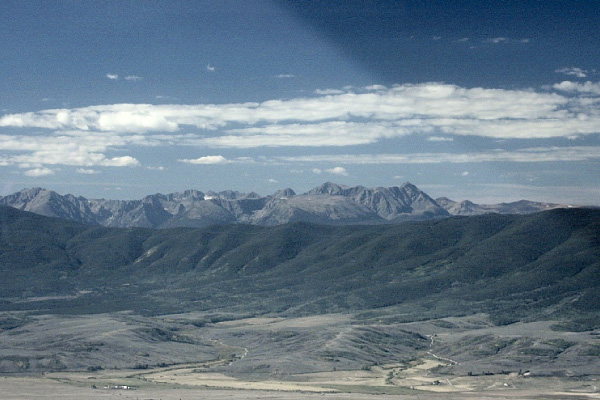 Amplitud del Cañón de Tenmile desde el Boreas Pass.
Una falla es una fractura de entre dos bloques de tierra o roca que puede moverse hacia hacia abajo arriba, o hacia los lados. La evidencia de este tipo de acción en el Cañón de Tenmile no solo se encuentra en el desfase del cañón, sino también en las rocas pulidas y revestidas, llamadas rodajas. Visible a lo largo de la pared este del cañón, esta característica se formó como resultado del deslizamiento de la roca contra la roca. Algunos científicos creen que la falla del cañón puede ser una extensión de la falla de los mosquitos, pero la poca evidencia geológica dificulta sacar conclusiones como estas.
A través de la ventana de su automóvil, o sentado junto al agua en Officer's Gulch, mirando las paredes del cañón, puede ver rocas sedimentarias metamorfoseadas (meta sedimentarias) e ígneas metamorfoseadas (metaigneas), que aparecen respectivamente en capas compactas o granos compactos más pequeños. Estas rocas son evidencia de capas de sedimentos pasados ​​y flujos volcánicos en el área que han sufrido presión y calor para crear la roca transformada en el cañón. Disparando a través de algunas partes de las paredes del cañón hay vetas de pegmatita de color más claro, donde las fracturas han permitido que la roca fluya y se solidifique.
Más recientemente, en términos geológicos, el Cañón de Tenmile ha sido moldeado por glaciares, nieve y agua. Las morrenas, acumulación de rocas debido al movimiento de los glaciares, sirven como evidencia del flujo de glaciares en la región de Tenmile. Según el geólogo local Randall Streufert, el extremo oriental del glaciar Tenmile está establecido por la morrena terminal de la cresta norte-sur en la península de Frisco.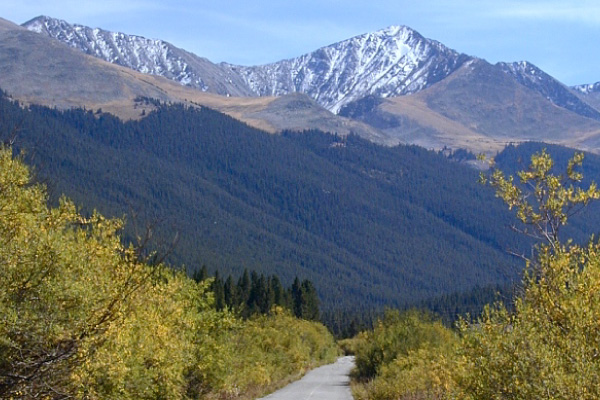 Final del Sur del Cañón de Tenmile.
Desde grandes eventos que configuran el paisaje hasta características específicas como el Cañón de Tenmile, cuando se trata de los procesos geológicos que han dado forma al paisaje, incluso los mejores científicos nunca pueden conocer la historia completa. Eso no significa que no haya mucho que aprender de la impresionante geología que nos rodea. Con suerte, la próxima vez que conduzca, o mejor aún, como pasajero, observe más de cerca las rocas a su alrededor y esté un paso más cerca de responder: "¿Qué diablos es eso?"

Recursos:
http://www.cliffshade.com/colorado/tenmile/#tenmile_canyon
https: // glaciers.us/glaciers.research.pdx.edu/Glaciers-Colorado.html
https://coloradoencyclopedia.org/article/glaciers
https://pubs.usgs.gov/bul/1319c/report.pdf
https: // usgs .maps.arcgis.com / apps / webappviewer / index.html? id = 5a6038b3a1684561a9b0aadf88412fcf
http://www.cliffshade.com/colorado/tenmile/#tenmile_canyon
Carly Innis, era Naturalista del Walking Mountains Science Center, está intrigada por los procesos de la tierra y cómo todo, incluida la geología, está interconectado.
---
Driving our class along the coast of California for a geology field trip, my college professor once told us that the most common cause of death of geologists is a car accident. This was surely a made-up statistic, but he gave the logical reasoning that while driving, they always look out the windows and wonder "what the (blank) is that?!"
With a single drive along I70, locals, visitors and geologists alike can take a look out their window and observe the curious nature of all the mysterious rocks, peaks, and canyons. How did dynamic processes of uplift, faulting, and erosion create landscapes so different and so unique? Much more simply put- what the (blank) is that (and how did it form)?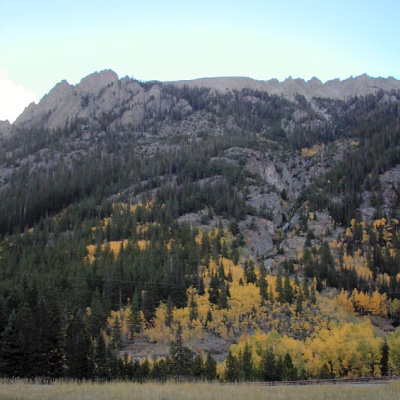 North End of Tenmile Canyon.
Exploring the beautiful Eagle County behind my own steering wheel has led me to fully understand my professor's claim. Many drives I have longed for the shot-gun seat and a top-down convertible to fully take in the surroundings.
Between Vail and Frisco, dividing the Gore Range from the Tenmile Range, is Tenmile Canyon. Due to unique geological processes, the stretch of I70 through Tenmile Canyon presents a peculiar, yet jaw-dropping landscape that is quite unique.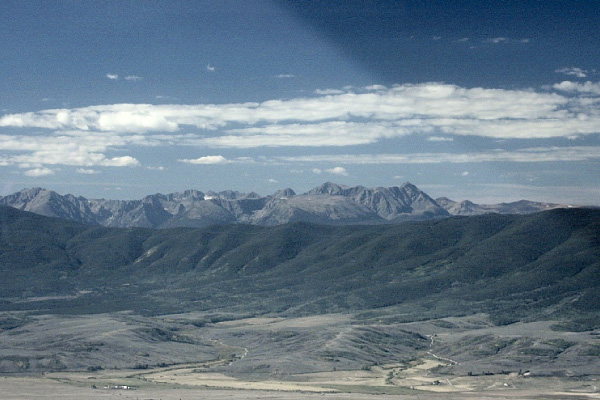 Amplitud del Cañón de Tenmile desde el Boreas Pass.
The initial uplift of the Rocky Mountains during the Laramide Orogeny created the base of the mountains in Colorado. From this mountain-building event, Gore and Tenmile formed a continuous range. Since then, the ranges have been broken apart by faulting to form a canyon exposing the core of these mountains and the metamorphosed rock.
A fault is a break in between two blocks of land or rock that can move up, down, or sideways. Evidence of this type of action in Tenmile Canyon is not only in the offset of the canyon, but in the polished, lined rocks- called slickensides. Visible along the east wall of the canyon, this feature formed as a result of rock sliding against rock. Some scientists believe that the canyon fault may be an extension of the Mosquito Fault, but little geologic evidence makes drawing conclusions like these difficult.
Through your car window, or sitting beside the water at Officer's Gulch, gazing at the canyon walls, you may see metamorphosed sedimentary (metasedimentary) and metamorphosed igneous (metaignious) rocks, appearing respectively in tight layers or smaller, packed grains. These rocks are evidence of past sediment layers and volcanic flows in the area that have undergone pressure and heat to create the transformed rock in the canyon. Shooting across some parts of the canyon walls are veins of lighter-colored pegmatite, where fractures have allowed for rock to flow and solidify.
More recently, in geologic terms, Tenmile Canyon has been shaped by glaciers, snow and water. Moraines, build-up of rocks due to glacier movement, serve as evidence of flowing glaciers in the Tenmile region. According to local geologist Randall Streufert, the eastern end of the Tenmile glacier is established by the terminal moraine of the North-South ridge at the Frisco Peninsula.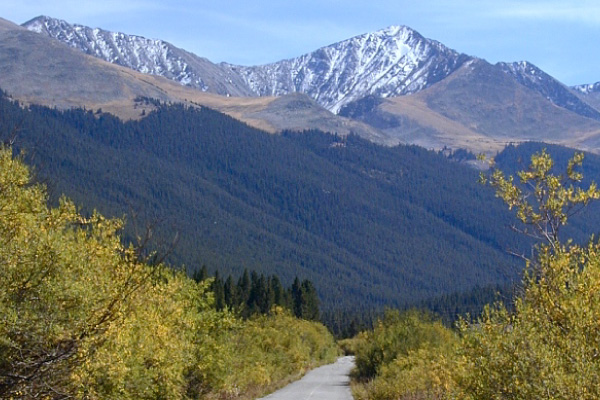 South End of Tenmile Canyon.
From large landscape shaping events to specific features such as the Tenmile Canyon, when it comes to the geologic processes that have shaped the landscape, even the best of scientists may never know the whole story. That does not mean there is not a lot to learn from the stunning geology all around. Hopefully the next time you are driving, or even better, riding as a passenger you will take a closer look at the rocks around you and get one step closer to answering, "what the heck is that!?"
Resources:
http://www.cliffshade.com/colorado/tenmile/#tenmile_canyon
https://glaciers.us/glaciers.research.pdx.edu/Glaciers-Colorado.html
https://coloradoencyclopedia.org/article/glaciers
https://pubs.usgs.gov/bul/1319c/report.pdf
https://usgs.maps.arcgis.com/apps/webappviewer/index.html?id=5a6038b3a1684561a9b0aadf88412fcf
http://www.cliffshade.com/colorado/tenmile/#tenmile_canyon
Carly Innis, was a Naturalist at Walking Mountains Science Center, is intrigued by the processes of the earth and how everything, including geology, is interconnected.