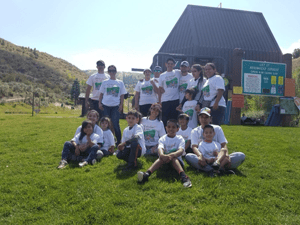 A pesar de la pandemia actual de COVID-19, el Eagle River Watershed Council (mencionada como ERWC o el Watershed Council a continuación) ha experimentado tasas de uso del río más altas de lo normal a medida que los visitantes y los residentes locales acuden en masa a sus orillas para disfrutar de alivio del estrés, recreación y oportunidades para reuniones responsables, por lo que es imperativo cuidar el río eliminando la basura y los escombros de sus orillas y corrientes. El sábado 12 de septiembre, la 26ª limpieza anual del río Eagle servirá para hacer precisamente eso.
La limpieza del río Eagle, presentada por Vail Resorts Epic Promise, es un evento distintivo de ERWC que muestra la fuerza de la comunidad de montaña local. Más de 350 voluntarios de empresas, organizaciones, familias y amigos locales muestran anualmente su dedicación al valle del río Eagle formando equipos para limpiar más de 68 millas de las vías fluviales del condado de Eagle.
El evento se verá y se sentirá diferente este año, de modo que ERWC pueda garantizar que se cumplan las regulaciones que protegen la salud pública. Aunque la tradicional celebración de picnic después del evento ha sido cancelada, el Watershed Council anticipa un aumento del orgullo y la camaradería de la comunidad que será incomparable en los 25 años de historia del evento.
La fecha límite para registrarse para participar en el evento es el viernes 4 de septiembre. Para obtener más información o para registrarse, envíe un correo electrónico a cleanup@erwc.org.
Eagle River Watershed Council es una organización 501c (3) apoyada por la comunidad con la misión de defender la salud y la conservación de las cuencas del río alto de Colorado y el río Eagle a través de investigación, educación y proyectos. Comuníquese con el Watershed Council al (970) 827-5406 o visite erwc.org para obtener más información.
---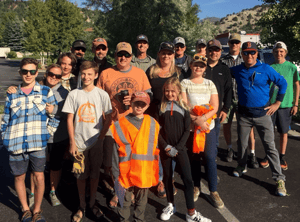 Amidst the current COVID-19 pandemic, the Eagle River watershed has experienced
higher-than-normal river use rates as visitors and locals flock to its banks to enjoy stress relief,
recreation and opportunities for responsible gatherings, and so it is imperative to care for the river by removing trash and debris from its banks and flows. Taking place Saturday, September 12, the 26th Annual Eagle River Cleanup will serve to do just that.

The Eagle River Cleanup, presented by Vail Resorts EpicPromise, is a hallmark event of Eagle River Watershed Council and one that shows the strength of the local mountain community. More than 350 volunteers from local businesses, organizations, families and friends annually show their dedication to the Eagle River Valley by forming teams to clean up more than 68 miles of Eagle County waterways.
The event will look and feel different this year, so that we can ensure regulations that protect public health are met. Although the traditional BBQ celebration following the event has been cancelled, the Watershed Council anticipates a swelling of community pride and camaraderie that will be unmatched in the event's 25-year history.
The deadline to register to participate in the event is Friday, September 4. For more information or to register, please email cleanup@erwc.org.
Eagle River Watershed Council is a community-supported 501c(3) organization with the mission to advocate for the health and conservation of the Upper Colorado and Eagle River basins through research, education and projects. Contact the Watershed Council at (970) 827-5406 or visit erwc.org to learn more.