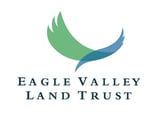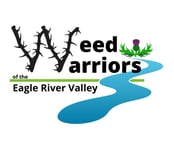 Read English article HERE
Traducido por Maria Burciaga-Alaniz
¿Tiene malezas invasoras en su vecindario, en su propiedad o en un área común donde vive? Tratar con estas hierbas malas nocivas puede parecer abrumador, pero es un trabajo importante. Al asociarse para ayudar a abordar este problema, Land & Rivers Fund, el Condado Eagle, Eagle River Watershed Council y Eagle Valley Land Trust han lanzado un programa llamado "Weed Warriors of the Eagle River Valley''. Como parte de sus misiones centradas en la conservación, la restauración y protección de la tierra y el agua en el Condado Eagle, mantener nuestro hermoso valle libre de especies invasoras son las principales prioridades de este programa.
¿Por qué las especies invasoras son malas para nuestro medio ambiente?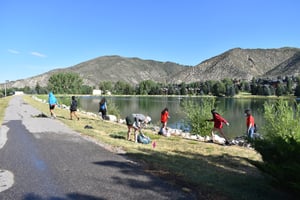 Amenazan los recursos naturales y la belleza natural de Colorado.
Las malezas invasoras carecen de enemigos naturales que de otro modo reducirían su crecimiento, lo que las hace altamente destructivas, altamente competitivas y muy difíciles de controlar.
Son plantas que lesionan o causan daños directamente o indirectamente a la agricultura, la ganadería, el riego, la navegación, la recreación, los recursos naturales, la salud pública o del medio ambiente.
Las malezas invasoras amenazan la biodiversidad y la estabilidad del ecosistema.
Cada año en el Condado Eagle, cientos de acres de pastizales, hábitat de vida silvestre, áreas recreativas y comunidades de plantas nativas son destruidas por las hierbas nocivas.
Obtenga más información sobre los efectos de las malezas invasoras en erwc.org/weeds.
Necesitamos su ayuda para combatir este problema que cada vez es más grave para el ecosistema. Los detalles del programa Weed Warriors son los siguientes, y no dude en comunicarse con preguntas: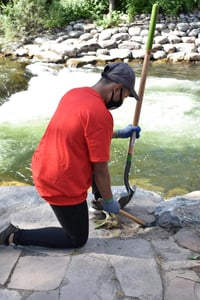 El programa está abierto a cualquier persona en el Valle del Río Eagle que sea dueño(a) de una propiedad, viva en un vecindario, sea miembro de una asociación de propietarios (HOA) u otra organización similar y tenga malezas / plantas nocivas / invasivas en la propiedad.
Estamos aceptando nominaciones para el programa desde este momento hasta el 3 de agosto, y mientras tanto lo alentamos a que aprenda más sobre nuestras especies locales de malezas nocivas, a través del uso de nuestra actividad Weed Bingo, disponible en nuestra página web.
Seleccionaremos ganadores para una mini sesión de educación y mitigación este otoño, y un ganador para un proyecto de servicio de día completo en 2021 en la propiedad. Este día incluye educación y trabajo de mitigación con el personal asociado y voluntarios de su vecindario, HOA, familia, etc.
Visite www.erwc.org/weedwarriors. Aquí pueden encontrar el formulario de nominación, la tarjeta de bingo de hierba invasiva y más información.