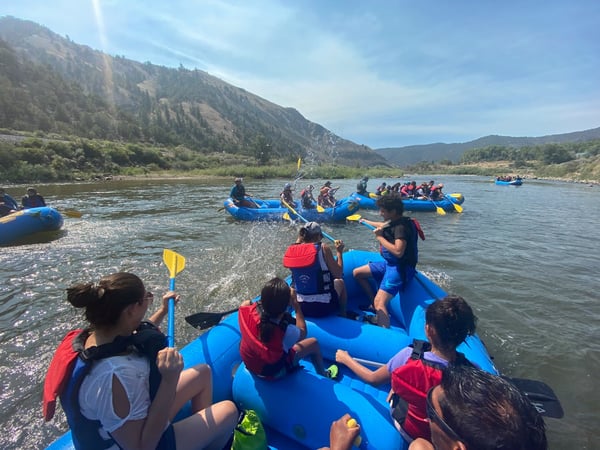 *For ENGLISH, read below*
Por segundo domingo consecutivo, James Dilzell, el coordinador de educación y alcance del Eagle River Watershed Council, se despertó temprano para prepararse para una mañana de experiencias recreativas con temas acerca de ríos y arroyos con los residentes del Condado Eagle. El 2 de agosto, la organización sin fines de lucro reunió a un grupo de niños locales para aprender sobre los conceptos básicos de la pesca con mosca, incluida la configuración y el lanzamiento del equipo, y el 9 de agosto se llevó a cabo el cuarto día de rafting comunitario anual, una tradición de experiencia muy querida por el Watershed Council.
Con respecto al día de rafting comunitario, Dilzell dijo: "Lo que realmente distingue a este evento anual es la energía que estas familias aportan al río. Es muy emocionante y alegre, y para muchas de estas personas, esta es la primera vez que hacen rafting, por lo que es realmente especial para el Watershed Council ser parte de ese momento. Las experiencias positivas con relación a los ríos como estas crean recuerdos duraderos, y eso puede llevar a que se conviertan en promotores de la protección de nuestros ríos de por vida".
En efecto; Mientras que muchos de los eventos del Watershed Council son talleres diseñados para impartir habilidades y conocimientos específicos a los participantes, el día de rafting comunitario es más una celebración del Watershed Council y una forma de disfrutar la recreación en el río. "Casi todo en nuestra comunidad, desde la fabricación de nieve, el kayak, la pesca con caña, los picnics y la observación de la vida silvestre, existe debido al increíble recurso que son los arroyos y ríos de nuestra región. Es importante hacer esa conexión, para que podamos garantizar su protección", dijo Dilzell.
El día de rafting comunitario de este año comenzó en Lyons Gulch en la parte alta del río Colorado, al norte de Dotsero, con 41 personas formando 10 familias. A través de una asociación con Timberline Tours y Eagle Valley Outdoor Movement (iniciativa EVOM) junto con fondos de subvención de Great Outdoors Colorado, 6 balsas guiadas pudieron flotar río abajo hasta Dotsero Landing. La aventura de 4.5 millas incorporó educación sobre seguridad y conservación, guerras de chapoteo/salpicadura y paletas de hielo.
Tanto la clínica de pesca con mosca del 2 de agosto, que se llevó a cabo gracias al apoyo de Vail Valley Anglers en Edwards, como el día de rafting comunitario, son experiencias que el Watershed Council cree que ayudarán a promover la protección y apreciación del rol importante de los ríos Eagle y Colorado. "Queremos que todos los miembros de nuestra comunidad sepan que todos podemos hacer cosas en beneficio de nuestros ríos y, dado que somos una comunidad de cabecera, todo lo que hay río abajo. Ya sea que se trate de tomar decisiones de jardinería sabias en cuanto al agua, recoger basura en las carreteras, eliminar malezas nocivas o aprender sobre los desagües pluviales, creemos que es más probable que las personas asuman un rol defensor activo de protección de nuestros ríos y arroyos si los experimentan y aprecian".
Si bien COVID-19 ha alterado varios programas del Eagle River Watershed Council, la organización sin fines de lucro continúa liderando proyectos de rehabilitación ribereña, como un proyecto reciente de Miller Ranch Open Space y un proyecto de plantación de árboles cerca de Stevens Park en el oeste de Vail, así como programas de educación revisados ​​que aseguren la implementación de medidas de distanciamiento social.
Para obtener más información sobre los próximos programas educativos y otras oportunidades, comuníquese con James Dilzell, en dilzell@erwc.org.
Eagle River Watershed Council es una organización 501c (3) apoyada por la comunidad con la misión de defender la salud y la conservación de las cuencas del río alto de Colorado y el río Eagle a través de investigación, educación y proyectos. Comuníquese con el Watershed Council al (970) 827-5406 o visite erwc.org para obtener más información.
_
For the second Sunday in a row, James Dilzell, Eagle River Watershed Council's Education and Outreach Coordinator, woke early to prepare for a morning of river-themed recreation experiences with Eagle County residents. On August 2, the nonprofit brought together a group of local kids to learn about fly-fishing basics, including equipment set-up and casting, and August 9, the fourth-annual Community Float took place – a much-loved experiential tradition for the Watershed Council.
Regarding the Community Float, Dilzell said, "What really sets this annual event apart is the energy that these families bring to the river. It's so exciting and lively, and for a lot of these folks, this is the first time they've ever rafted, so it's really special for the Watershed Council to be a part of that moment. Positive river experiences like these create lasting memories, and that can lead to lifelong river stewardship."
Indeed; whereas many of the Watershed Council's events are workshops designed to impart participants with specific skills and knowledge, the Community Float is more of a celebration of the Colorado River Watershed and a way to enjoy on-river recreation. "Nearly everything in our community, from snowmaking, kayaking, angling, picnicking, and wildlife-viewing, exists because of the amazing resource that is our region's streams and rivers. It's important to make that connection, so that we can ensure its protection," Dilzell said. This year's Community Float began at Lyons Gulch on the Upper Colorado, north of Dotsero, with 41 folks making up 10 families. Through a partnership with Timberline Tours and Eagle Valley Outdoor Movement along with grant funding from Great Outdoors Colorado, 6 guided rafts were able to float downstream to Dotsero Landing. The 4.5-mile adventure incorporated safety and conservation education, splash wars and popsicles.
Both the August 2 Fly Fishing Clinic, which took place thanks to the support of Vail Valley Anglers in Edwards, and the Community Float are experiences the Watershed Council believes will help promote appreciation of the role of the Eagle and Colorado rivers. "We want all of our community members to know that we can all do things to benefit our rivers and, since we're a headwaters community, everything that is downstream. Whether that's making water-wise landscaping choices, picking up litter along roadways, removing noxious weeds or learning about storm drains, we believe that people are more likely to take an active stewardship role in our watershed if they experience and appreciate it."
While COVID-19 has altered a number of Eagle River Watershed Council's programs, the nonprofit is continuing to lead riparian rehabilitation projects, such as a recent Miller Ranch Open Space project and a tree-planting project near Stevens Park in West Vail, as well as revised education programs that ensure social distancing measures may be implemented.
To learn more about upcoming education programs and other opportunities, please contact James Dilzell, at dilzell@erwc.org.
Eagle River Watershed Council is a community-supported 501c(3) organization with the mission to advocate for the health and conservation of the Upper Colorado and Eagle River basins through research, education and projects. Contact the Watershed Council at (970) 827-5406 or visit erwc.org to learn more.