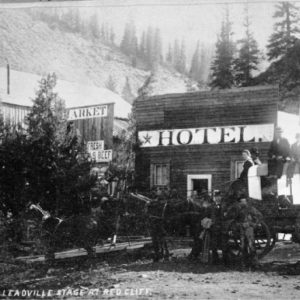 The history of a place or culture can illuminate many things – from simple facts about the past, to current laws, maps, and peoples, to how we view ourselves and our place within a larger community. While the town of Vail has just barely turned 50 (incorporated in 1966), the history of the Eagle River Valley and the surrounding areas extends back much farther – from the mining community of Red Cliff to the agricultural foundations of the Brush Creek Valley and Sylvan Lake State Park. For visitors or locals alike interested in the illumination mentioned above, as well as what makes this place so darn special – well, you've got options.
Interested in the more recent history of the Colorado ski industry? Check out the Colorado Ski & Snowboard Museum Hall of Fame, which offers free (suggested donation of $3.00) admission and a convenient location above the Vail Village parking lot — making it an easy destination to hit before or after the slopes.
Looking for an insight into the wild pioneer landscape of the Colorado mountains? Head down-valley during the summer months to stop by the Eagle County Historical Society Museum. Offering insight into the valley's ranching past, with full size historical equipment and artifacts from the areas farms and ranches, the museum also offers a look into the tradition and culture of the Native peoples that call this place home – the Ute.
Finally, if you're just one of those folks who can't stomach the idea of being inside all afternoon (and in Colorado we most certainly have some of those!) head towards the White River National Forest, with trails such as Bighorn Creek in Vail and Meadow Mountain in Minturn ending at historical cabins. No matter what type of history you're looking for (or for what reasons) you will find adventures in and out of town. With a land as rich in beauty and history as Eagle County, history is always just a few steps ahead.
20 Great Adventures is a mini blog series by Walking Mountains Science Center's Youth Programs staff to celebrate the organization's 20th anniversary of providing natural science education to the Eagle Valley.