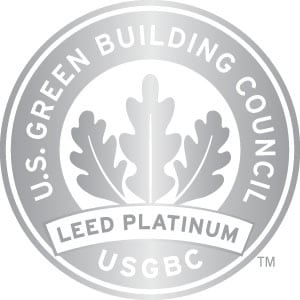 The LEED program (Leadership in Energy and Environmental Design) is an internationally recognized green building certification system developed by the US Green Building Council. This rating system seeks to ensure that energy saving metrics and strategies for better environmental and health performance are met during the commercial or residential building process. These include: energy savings, water efficiency, CO2 emissions reduction, improved indoor environmental quality, stewardship of resources and sensitivity to their impacts.
The new Walking Mountains Science Center will seek LEED Platinum Certification making it the greenest school in the State of Colorado. Platinum is the highest level of LEED certification and requires 80 points or above on a 100 point scale (Certified 40-49, Silver 50-59, Gold 60-79). Points are earned for implementation of the guidelines set forth in achieving the metrics and sustainability strategies described above.
Walking Mountains has submitted to an application by committee where compliances are painstaking documented at every step of the building process. Success is in part to the Governor's Energy Office, who awarded the science center with a $50,000 High Performance Design Grant last year. Achievement is granted or denied at the end of the process by the Green Building Certification Institute.
If successful, Walking Mountains Science Center will be the only science center in Colorado to achieve this status reducing overall energy consumption to approximately half that of a typical school building. Our new campus is well underway with a planned public opening slated for the end of August 2011. If you'd like to take a tour of the facility, please contact Doug Dusenberry at 970.827.9725 x21.