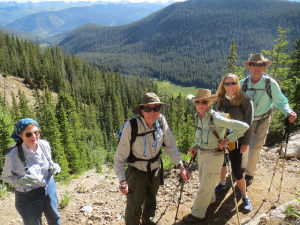 When I learned that my duties th Sunesonis summer primarily revolved around guiding backcountry hikes throughout the Eagle Valley I was stunned. Not that I'd be waking up at 5 o'clock in the morning for work instead of class this fall, and not at the fact that I might have a pretty good chance at encountering some of the Central Rockies' larger predators. I was amazed at the fact that I was being presented with the opportunity to inspire a sense of wonder in hikers on the trail and in locations not frequented by the casual Vail visitor. In short, I was stunned that I landed a gig with the pre-eminent environmental organization in the Valley and tasked with facilitating experiences for those who are out to enjoy the most common summertime activity; Hiking!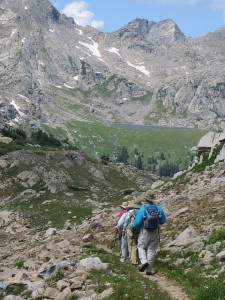 Walking Mountains, in operating the Vail Nature Center, has adopted the Vail Hiking Club that has been guiding trips out of Vail for decades. Club members can pay an upfront fee and are guaranteed spots on our weekly full-day excursions on Tuesdays and Saturdays or half-day hikes on Wednesdays. Visitors to the valley or locals looking for a group of hikers to enjoy the outdoors with can sign up for individual hikes and are welcomed on a first come first serve basis on every outing. Many of the regular hikers share social circles and welcomed in new friends we met on the trail. Some hikers have even been hiking together for longer than I have been on this planet. Needless to say, I received an incredibly warm welcome and was immediately intrigued with the possibilities of sharing my knowledge with a group of hikers and visitors who regularly choose the path less traveled.

We started out the season running into snow on many of our East Vail hikes. While the enormous amount of snow we received last winter provided us an excellent ski season, it presented an extra challenge on many of our early season hikes. We ran into snow just above the falls on the Booth Lake trail in early June and also did our fair share of post-holing through the snow above Beaver Lake on an attempted trek to Turquoise Lake. Running into snow was a mixed blessing. We weren't always able to make it to our intended destination but there is always something special about reaching snowfields after sweating through the initial 2 mile/ 2000 foot elevation gain that seems to be typical hiking out of our valley. We even ran into snow in July up Pitkin Creek trail and on Bowman's Shortcut trail on Vail pass. As a native Oklahoman, July generally meant weeks of 100 plus degree temperatures and swimming pools more reminiscent of tepid bathtubs. Thus, encountering snow in July rapidly exposed me as a flatlander as I giddily tossed snowballs throughout the group and attempted to glissade down some rather short snow fields.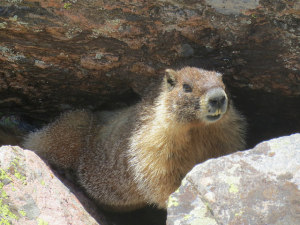 Some of the highlights from the season include an amazing trek over Fancy Pass and down through the beautiful Missouri Lakes. As a ten mile loop with a few thousand feet in elevation change, it was one of the longer and more strenuous treks on our schedule, but the payoff consisted of alpine lakes surrounded by a blanket of bistort, elephant heads, and rosy paintbrush. We also collected summits on two of our local peaks. Uneva Peak, out of Vail Pass, afforded us views of the backside of the Gore Range with views of Dillon Reservoir framed by every different shade of paintbrush imaginable and the stone hut atop Notch Mountain provided us a much needed rest stop atop never-ending switchbacks through a scree field littered with marmots.

We spent the summer hiking on trails from Sylvan Lake State Park to Camp Hale to the top of Vail Pass. We were some of the first visitors to the newly opened Homestake Reservoir on our trek to Lonesome Lake and spent time on the famous Colorado and Continental Divide Trails near Tennessee Pass. On Machine Gun Ridge, the locale once used to test artillery by the 10th Mountain Division, we enjoyed panoramas on the Gore and Sawatch Ranges while blazing a cattrack through sky pilots and alpine sunflowers with Mount of the Holy Cross ever-present, looming over our shoulders. We frequented Lost Lake on the North side of the Vail Valley and even enjoyed some trail-side espresso on Shrine Ridge.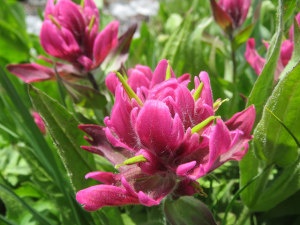 When it is all said and done and our hiking season wraps up towards the end of September, we will have put in over 200 miles and over 15,000 feet of elevation change through some of the most beautiful country in America. It's been said to me that people come for the winters, and stay for the summers. After spending most of my summer on the trail, walking on, through, and over our local mountains, I am humbled to have had the opportunity to share our mountainscapes with visitors from all over the globe and completely understand the draw to summer in such an inspiring place. My sense of wonder was peaked time and time again by the awe of our surrounding countryside and the sense of fulfillment I witnessed as hikers overcame personal challenges and obstacles in the name of exploring their curious nature. As the hiking season quietly transitions into more wintry activities, the words of John Muir can be used to sum up my summer hiking on mountains.

"Walk away quietly in any direction and taste the freedom of the mountaineer. Camp out among the grasses and gentians of glacial meadows, in craggy garden nooks full of nature's darlings. Climb the mountains and get their good tidings, Nature's peace will flow into you as sunshine flows into trees. The winds will blow their own freshness into you and the storms their energy, while cares will drop off like autumn leaves. As age comes on, one source of enjoyment after another is closed, but nature's sources never fail." National Parks, 1901.

The hiking season is not quite over! Join Peter for a full-day hike on Tuesdays or Saturdays or a half-day hike on Wednesdays through September 27th. Schedule of hikes is available online at: http://www.walkingmountains.org/adult-backcountry-hikes-vail-valley/

Or check out where we've been this summer: https://www.flickr.com/photos/wmsc-adulthikes/

Please call the Vail Nature Center at 970-479-2291 to sign up for a hike or email Peter at peters@walkingmountains.org with any questions.

Contributed by Peter Suneson. Peter Suneson is the Adult Program Instructor with Walking Mountains Science Center.