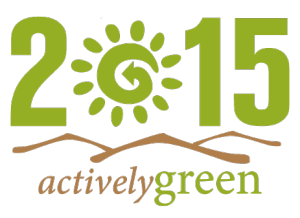 The Vail Valley is a unique and beautiful place worth protecting both now and for future generations. With the opening of the 2015 FIS Alpine World Ski Championships, the Vail Valley is ready for its spotlight on the global stage. In preparation for the event, businesses of the community have positioned themselves as not only a world-class tourism destination, but a destination committed to its sustainability performance.
To support this effort, the Actively Green 2015 program was launched in 2013, in partnership with Walking Mountains Science Center, the Town of Vail, Vail Valley Foundation and global NGO Sustainable Travel International. Since its inception, 100 Vail Valley businesses have been trained in sustainable tourism practices and 35 businesses have completed the eco-certification process. The Vail community strongly believes that positive environmental and social practices are not only good for the community, but make long-term business sense.
Jane Ross, an employee at Sonnenalp Hotel, had no background in sustainability when she was asked to lead their "Green Team" several years ago. She now finds it the most rewarding part of her job. Jane and her "Green Team" have decreased the hotel's water and energy usage, saved the company over $200,000, and boosted employee morale. "The program has given us a straightforward roadmap on how to implement healthy and environmentally friendly business practices. We are pleased to have experienced the wonderful benefits of the 'people, planet, profit' theory behind this program," said Johannes Faessler, owner of the Sonnenalp Hotel and Chairman of the 2015 Ski Championships Lodging Committee.
Participating businesses in the Actively Green 2015 program range from hotels and banks to local event managers and attractions. Ensuring that sustainability is at the forefront of the story for the tourism industry in Vail has proven to be of great value. The region is now able to report on environmental impacts and innovations as a destination, rather than as individual businesses. Among participating organizations, 46% divert more than 50% of their waste to recycling and re-use programs like composting and wine cork re-use. There are 7% operating on 100% renewable energy, with 59% using a mix of renewable and non-renewable electricity use.
"The repercussions of not doing something substantial right now are going to affect us very much in the future," said Susie Tjossem, Executive Director at Colorado's Ski & Snowboard Museum and Hall of Fame. "Getting out in front of this movement is paramount. If you don't have these kinds of programs in place, or ways to measure and show 'yes we are' sustainable, then we're going to be left behind."
The Actively Green 2015 program also goes beyond environmental metrics. Individuals working in the community's tourism sector have been inspired by many of the less tangible benefits, including increased public awareness. "For me personally, leaving our valley in better shape than when we found it, and having our public more conscious and aware of the environment, is exciting work," added Derek Schmidt, General Manager of The Wren at Vail and co-chair of East West Resorts.
As the 2015 Ski Championships begin, the Vail business community will be engaged in demonstrating unity to preserve the beauty of the environment of its valley. Actively Green 2015 will also be visible at the ski races and award venues, enabling visitors and locals to play an active role. There will be re-fill water stations, paperless mobile event updates and recycle stations throughout the venues. The educational highlight will be a special free public showing of the Emmy award-winning film "Chasing Ice" on February 11th at the Vilar Performing Arts Center to teach people about earth's changing climate. "We're excited to host visionary scientist and filmmaker James Balog as part of the film event" said Kim Langmaid, Vice President at Walking Mountains Science Center. To learn more about the film screening visit www.walkingmountains.org/ice.
The Actively Green 2015 program will continue long after the 2015 Ski Championships. "Vail is a great example of the progress and success that destinations can have when they harness the power of travel and tourism as a force for good," added Brian T. Mullis, CEO and Founder of Sustainable Travel International. The goal is to have more participating businesses attend the trainings and become eco-certified with each season, and reporting their progress and actions on the community's destination sustainability monitoring system managed by Walking Mountains Science Center. This is just the beginning of Vail Valley's journey toward being acknowledged as a world-class sustainable destination.
For more information on the Actively Green 2015 program, click here.
Eco-certified Businesses Include:
Active Energies, Alpine Bank – Avon & Vail, Antlers at Vail, Beaver Divers, Centennial Bank, Colorado Mountain College - Edwards Campus, Colorado Ski & Snowboard Museum, Eagle Point Resort, Eye Pieces of Vail, Falcon Point Resort, Four Seasons Vail, Lion Square Lodge, Montaneros in Vail, New Electric Inc, Organic Housekeepers, Poste Montane Lodge, RA Nelson, Ski & Snowboard Club Vail, Sonnenalp Hotel, SteamMaster, The Charter at Beaver Creek, The Sebastian – Vail, The Wren, Town of Vail Community Development, Town of Vail Library, Vail Cascade Resort, Vail Honeywagon, Vail Marriott, Vail Racquet Club, Vail Spa Condominiums, Vail Valley Foundation, Vilar Performing Arts Center, Walking Mountains Science Center, West Vail Liquor Mart.