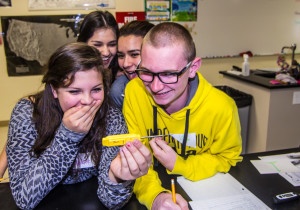 Avon, Colo. April 6, 2015 – A grant from Vail Resorts Epic Promise has allowed Walking Mountains Science Center to engage Eagle County students in the eco-schools program. As part of this program, student leaders help reduce energy use, water consumption, and waste to help our schools become more sustainable.
Schools in the USA can be big energy consumers and waste producers. According the National Wildlife Federation (NWF), "schools spend more money on energy than text books and computers combined and thirty percent of the energy used in buildings is often used inefficiently or unnecessarily." Eco-Team members think that conserving energy and reducing waste is the responsible thing to do for the environment, as well as the smart thing to do for their schools' pocketbooks. For a school district that spends more than $1 million annually on gas and electric bills, even a ten percent reduction could add up to big savings.
Currently the Vail Ski and Snowboard Academy, Edwards Elementary, Brush Creek Elementary, Avon Elementary, Gypsum Creek Middle, and Stone Creek Charter Schools all have Eco-Teams working on various energy conservation, water quality, waste reduction, and school ground improvement projects.
To accomplish their goals, schools are following the guidelines of an internationally successful NWF program called Eco-Schools. Eco-Team members start by collecting data about their buildings, including the habits of the students and staff using them. They evaluate the information and generate conservation solutions specifically for their schools. Then they develop, implement, and monitor an action plan for improvement. In the process, their schools are transformed into learning laboratories; students learn building science and gain real-world communication, leadership, and citizenship experience.
At Edwards Elementary (EES), students identified energy waste that was happening at the end of the school day. They found that not all lights and electronics were getting turned off and sometimes doors and windows were left open, so they developed a system to help others in the building remember to "power down". Principal Heidi Hanssen said, "our Eco-Team has assigned classroom Power Patrollers who are in charge of shutting down classrooms each afternoon."
They created a reward system with charts and a certificate of recognition for classroom power patrols doing their job. The students got permission from the principal, collaborated with custodians, wrote letters to teachers, made announcements over the loud speaker, updated their bulletin board, and wrote articles for the school newsletter.
Their efforts consistently saved the school about 8%, adding up to about $256 over Thanksgiving, winter, and February break. They are gearing up to have their best "power down" yet over spring break this April.
"Two Edwards Elementary School teachers, Katie Leibig and Jeanine Kenney, lead the EES Eco-Team, to spread the message to our student body that little things can make a big difference when it comes to energy savings," said Hanssen.
Surprisingly, this small group of 4th and 5th graders is getting results and anyone can track it on a public website administered by a local non-profit, Clean Energy Economy for the Region, CLEER. The school's gas and electric meters are hooked up to a computer that collects energy data at regular intervals and downloads it nightly to the website, colorado.buildingenergynavigator.com. The website shows graphs of daily energy use and cost, so the Eco-Team can literally see what savings result from their actions.
Eagle County School District Assistant Superintendent, Mike Gass, sees the benefit of this type of learning. He said, "The initial excitement we have seen in our students is showing some real behavior improvements in multiple schools. Our students are serious about their responsibility and the future they see for our environment. It is really environmental character education!"
Vail Ski and Snowboard Academy is working on several energy projects, water quality monitoring on Cross Creek, recycling and composting. Avon Elementary focuses on recycling, energy, and school gardens. Brush Creek Elementary and Gypsum Creek Middle just got started with an emphasis on energy; and Stone Creek Charter School is revamping its recycling program and looking for waste reduction opportunities. All of these schools are well on their way to earning an internationally recognized Bronze, Silver, or Green Flag Eco-Schools award from NWF.
This program is made possible by Walking Mountains Science Center's vision for sustainability in the Eagle Valley and generous financial support from Epic Promise.
Walking Mountains Eco-Schools Coordinator, Cindy Tibble, is recruiting schools that want to start an Eco-Team and become an Eco-School. If you are interested, contact her at cindyt@walkingmountains.org. It's a great opportunity to empower students to grow as leaders, apply academic knowledge to solve real-world challenges, and move our schools and community toward a greener future.
About Walking Mountains Science Center
Walking Mountains Science Center's mission is to awaken a sense of wonder and inspire environmental stewardship and sustainability through natural science education. Visit www.walkingmountains.org or call 970.827.9725 for more information.
###