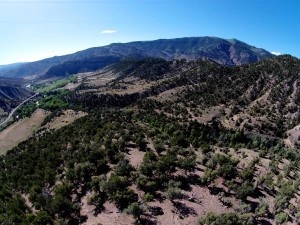 Avon, Colo. August 12, 2015 – Walking Mountains Science Center has purchased 224 acres of property along Sweetwater Creek near Dotsero, CO from Vail Mountain School. As a result of the sale, Walking Mountains will be able to expand access to educational programming for local students. Over the past two decades, VMS has used the undeveloped site primarily for science programs, and, as a part of the sale, they will still have access to the property for such purposes.
Last year, Walking Mountains' Field Science Programs were at capacity. They served over 3,500 students in the 2014/15 school year, however, more than 750 students remained on a waitlist for these programs. The Sweetwater property will be a pivotal resource that will allow more of Eagle County's school children to participate in hands-on, field science programs provided by Walking Mountains Science Center. Eagle County Schools and Walking Mountains have an agreement to eventually serve 100% of the students.
"We are very grateful to Vail Mountain School for partnering with us in our goal of serving every student in Eagle County. This land is important due to the limitations of our public land permits and owning a larger piece of private land allows us to serve more students and fulfill our mission." Said Markian Feduschak, President of Walking Mountains Science Center.
Speaking on behalf of the VMS board of trustees, Head of School, Mike Imperi, said, "We were tremendously happy when Walking Mountains expressed interest in the property.
We partner with them to provide enrichment in our lower school science programs and we know they can and will use this beautiful property to its full potential. Citizenship is a central element of Vail Mountain School's mission and community is one of our core values. We're excited that the sale will ultimately enrich the lives of children in Eagle County, including our own students, and benefit our local community."
This property will serve as a fourth location for Walking Mountains programs and is an excellent addition because of its diverse ecology and proximity to schools in Gypsum and Eagle. It also creates opportunities for new overnight camp programs, family and adult programs.
"The property provides a different ecological community for our field science programs and increases the diversity of Walking Mountains' educational experiences for students, visitors and locals alike. The lower elevation provides a moderate climate which extends the non-winter seasons to allow us to serve more students." Said Beth Markham, Youth Programs Director at Walking Mountains Science Center.
About Walking Mountains Science Center
Walking Mountains Science Center's mission is to awaken a sense of wonder and inspire environmental stewardship and sustainability through natural science education. Visit www.walkingmountains.org or call 970.827.9725 for more information.
About Vail Mountain School
Vail Mountain School is an independent, coeducational college preparatory school for students from kindergarten through twelfth grade in East Vail. With a current enrollment of 432, VMS is the only K-12 educational institution in Eagle and Summit Counties. The school blends a clear focus on challenging academics with a commitment to moral, social, and physical development, while integrating the outdoors into the academic and cultural fabric of the school. Cross-age friendships between students promote role-modeling, responsibility, self-confidence, and a sense of community. Supported by a rapport-driven, caring faculty, students develop the academic and personal skills necessary to prepare them for leadership in meeting the complex challenges of the 21st century. The mission of Vail Mountain School is to prepare students intellectually, emotionally, and ethically to thrive in a collegiate setting and beyond with the life-long purpose of active participation in global citizenship. Visit www.vms.edu for more information.
###