People move to the mountains for all kinds of reasons – the skiing, the sunsets, the active lifestyle, and now a Master's Degree. Walking Mountains Science Center in Avon, Colorado is pleased to announce the beginning of a new partnership with the University of Northern Colorado's (UNC) School of Biological Sciences, College of Natural and Health Sciences and Extended Campus. This innovative partnership will offer a Graduate Fellowship in Natural Science Education that will enable students to gain valuable teaching experience while earning a Master of Arts Degree in Science Education.
The expansion of their Graduate Fellowship to a complete, two-year, degree-granting program represents a tremendous step forwards in the evolution of Walking Mountains' efforts to awaken a sense of wonder and inspire environmental stewardship and sustainability through natural science education.

The Fellowship in Natural Science Education is a groundbreaking program that will attract the best and brightest from the field of education to educate Eagle County's youth. This unique and creative venture builds upon synergy between the two institutions to create the first complete, degree-granting fellowship of its kind. This pioneering program will enable Walking Mountains and UNC to create a ripple effect of environmental leaders prepared to spread the ideas of stewardship, sustainability, and science education.
"We are excited to grow our existing Graduate Fellowship to a full two-year program in partnership with UNC who is recognized as a leader in preparing educators according to the Colorado Commission on Higher Education. It is an honor that UNC has recognized us as an ideal partner for this groundbreaking program that allows their graduate students in science education an opportunity to get out of the classroom and learn through experience all while being compensated for their time and tuition," said Markian Fedsuchak, President of Walking Mountains Science Center.
Standing Alone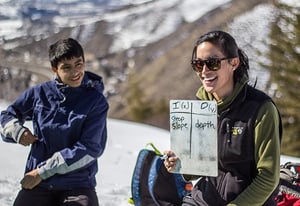 Similar programs to the Fellowship do exist and they all offer positive and enriching experiences, most leading to a Master's Degree in Education or a related field. These programs however, are tuition-based, with costs ranging from $15,000 to $23,000 annually, often with additional fees for room and board. Even with scholarships available, these programs are limited to those able to pay or willing to take on debt, a challenging situation for many in the field of education. The Fellowship at Walking Mountains is the only program that offers qualified instructors a chance to continue to develop as educators while earning compensation for their time.
The graduate fellowship allows the organization to recruit and train the most innovative and motivated teachers in the field. Which means that their School Field Programs (run in partnership with Eagle County Schools) and Summer Science Camps are taught by knowledgeable instructors with up-to-date science knowledge combined with an understanding of cutting edge educational strategies. Simply put, Walking Mountains provides some of the highest quality experiential science education in the country. Each group of fellows brings with them the vibrancy, passion, and commitment of youth, combined with a dedication to learning and a love of the natural world.
Foundation for the Future
The Graduate Fellowship distinguishes Walking Mountains as a unique and innovative science center and represents an investment in the future. Teaching students is important because they will become the future, and educating teachers is equally valuable because they are the foundation for that future. Walking Mountains will play a key role in making sure that this foundation is built upon principles of sound science, stewardship, and sustainability by instilling today's teachers with the skills, knowledge, and motivation to make a difference. Be a part of this difference; apply to be part of the program's first cohort of students or make a donation today! More information and the online application is available by clicking here.