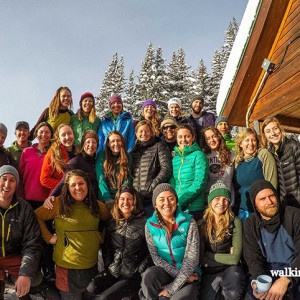 Walking Mountains Science Center has received a gift of $1 million from a couple who wish to remain anonymous. This unique and transformational gift will be used to create an Endowment for Professional Development that the nonprofit can use towards both individual staff and organization-wide learning opportunities.
The donor is a longtime board member of Walking Mountains who served as Vice Chair of the organization and spent his career in executive positions in human resources with Fortune 500 companies. After participating in a variety of Walking Mountains' educational programs over the years, the donor and his wife (a former teacher) were inspired to invest in the heart and soul of the organization – its employees.
"We are consistently amazed with the high quality programs they provide and the passion and care their staff takes in educating our community, both children and adults alike. In our world view, this was the best way to leverage our philanthropic giving in a targeted, impactful way. We believe the best way to attract and retain top level talent is to provide opportunities for professional growth," said the donor.
The endowment will support professional development opportunities for staff, board members, and education for the community at large.
"We believe Walking Mountains Science Center is in a unique position to serve as a convener in the community, and we want to bring influential thought leaders and world experts who will provide learning opportunities for everyone," said the donor.
This gift will triple the amount of funds currently available to Walking Mountains' staff. A portion of the funds will be set aside annually to bring influential thought leaders in natural science education and/or sustainability for the entire staff and community. The remainder will be used to fund a portion of their Graduate Fellowship Program, Certified Interpretive Guide training for their Naturalists and professional development for their administrative staff. To access the funds the staff will need to submit a proposal that explains why it's important to their role within the organization and most importantly, they will share what they learned with their co-workers so the learning can come full circle.
"We are honored and grateful we were chosen as the recipient of this transformational gift. The donor's creativity and strategic thinking focused on our staff will help to ensure program quality while providing a competitive edge in recruiting and retaining the highest quality staff. Our mission is all about education so this gift is a perfect fit," commented Markian Feduschak, President of Walking Mountains Science Center.
Walking Mountains Science Center's mission is to awaken a sense of wonder and inspire environmental stewardship and sustainability through natural science education. Working with students from Eagle County Schools, they have received numerous awards for their innovative, experiential natural science programs taught largely outdoors in nature. The organization also delivers over 1,000 adult and community programs each year, typically free to the public. Their sustainability department provides programs that educate and train individuals, companies, and local governments in sustainability best practices.
###