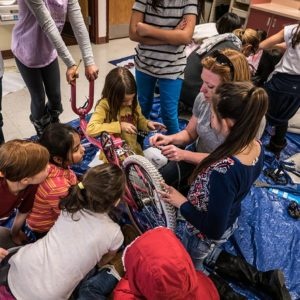 Have you ever wondered how something works or how something was made? In the monthly Science Behind series, we partner with a guest presenter to explore a large variety of interesting topics. The Science Behind series offers opportunities for adults to apply new knowledge and skills to everyday life, while having fun!
** This Science Behind event took place in June, 2016 **
The Science Behind Bicycle Mechanics and Technologies
Bike season is in full swing in the valley! If you haven't already, it's time to retrieve your bicycle from its winter resting place and get out there. The trails are dry, the roads are swept, and the excuses not to go are tenuous. Whether it's to save on gas by pedal-powered commuting, to feel the adrenaline rush of a new downhill course, or to push through the ups and downs of Vail Pass, biking is an accessible summer activity packed with the potential for exercise and adventure.
Like most sports and hobbies, buying and owning a bicycle requires research and maintenance. Many questions arise when finding a bike to suit a certain purpose, especially as technology changes and advances. Do I really need a bike that costs more than my car? What are the advantages to having disc brakes, a dropper post, and 29 inch wheels? When it comes to bicycle care and repair, what are the best tips and tricks of the trade? What role do biomechanics play in seat height, pedal position, pedaling rate, and muscle actions?
Join Walking Mountains Science Center with local bicycle experts and enthusiasts Brett Donelson and Tracy Sample on Wednesday, June 29 from 6:30-8:30pm as they answer these questions and provide additional education! Through interactive demonstrations participants will discover the role physics and biomechanics play in cycling, learn the ins and outs of gear technology, and pick up some basic bike maintenance skills. Whether you're looking for a beginner's introduction to bicycles or seeking a deeper understanding of your passion, the Science Behind Bicycle Mechanics has something for everyone.
Brett has lived in the Vail Valley since 2005. He has spent over 10 years coaching young athletes and working as a fitness professional. As a certified personal trainer, USA Cycling Coach, and USA Triathlon Coach, Brett realized his passion for helping young people see the benefits that athletics and mentoring can have in their life. His experience as the Cycling Director at the Athletic Club at the Westin and as the Head Women's Coach at Ski Club Vail has given him the skills needed to turn the dream of The Cycle Effect into a reality. The Cycle Effect's mission is to empower young women through mountain biking to achieve brighter futures and build stronger communities.
Growing up on Long Island, Tracy moved to Avon, CO in the winter of 2001. She started working at Venture Sports in the winter of 02-03 and has continued to work there since. An original die hard snow lover, she found her love for summers on a Mountain Bike. After getting married to Jeff in 2005 and growing her family, with the addition of their son, Hayden in 2008, and Harper Rose in 2012. Tracy quickly found how easy it was to take her growing son in a trailer on a road ride. In spring of 2014 Tracy was approached by Nadine Davis to form a women's cycling club. With the addition of Tam Donelson, Celynn McClarrinon & Stephanie Darrhon the Vail Valley Vixens was formed. You can find Tracy riding the road or mountains, cruising around with the family or in Venture Sports.

IF YOU GO…
What: The Science Behind Bike Mechanics
When: Wednesday, June 29, 2016 | 6:30-8:30 pm
Where: Walking Mountains Science Center in Avon
How much: FREE, $10 donation suggested
Space is limited, please CLICK HERE to register!