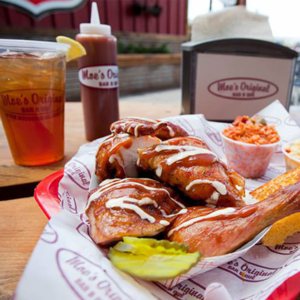 Have you ever wondered how something works or how something was made? In the monthly Science Behind series, we partner with a guest presenter to explore a large variety of interesting topics. The Science Behind series offers opportunities for adults to apply new knowledge and skills to everyday life, while having fun!
** This Science Behind event took place in April, 2017 **
The Science Behind BBQ and Smoking
Smoking has been used as a way of preserving and flavoring food for many thousands of years. Our ancestors discovered that foods exposed to smoke lasted longer before spoiling. Smoking processes and methods have been passed down through generations and are still very much in use today around the world. Although most of us are lucky enough to have refrigeration, food smoking today is still very popular due to the fantastic flavor it imparts. Food smoking is gaining in popularity around the globe as ease of access to technology has meant it's available to those of us that have less time and space to use the old methods. However, we smoke to add flavor and tenderize food these days, rather than to preserve it.
Enter Jeff Kennedy, Ben Gilbert and Mike Fernandez. After meeting at the University of Alabama, these young men instantly became friends and had a mutual interest in all things Southern including BBQ, blues, college football, and whiskey. While in Tuscaloosa, they learned to fire roast meats from local legend Moses Day. In 2001, the founders reconnected in Vail while all working at different restaurants. They wanted to start their own concept and so they rummaged through a landlord's junkyard in search of some sort of BBQ pit. What they found was 500 gallon diesel barrel and a single-wide mobile home trailer and the start of a successful career. They cut the barrel in half, welded it onto the trailer and started cooking swine. Later, the guys found a 40 foot horse trailer on EBay and converted it into a legal kitchen. Using scraps of corrugated tin, wood siding from the junkyard, and some imagination, they created a BBQ stand set on a dirt lot on the side of the road in Edwards. They sold out 100 consecutive days and knew they had something special. Over a decade later with 42 locations, Moe's Original Bar-B-Que is a successful and growing business selling franchises, not to mention the founders are still using the same pit in Vail, CO.
The success of Moe's Original Bar B Que can be attributed to many things; hard work, talent, comradery, and SCIENCE! Join Walking Mountains Science Center with original founders Jeff Kennedy, Ben Gilbert, and Mike Fernandez, as they delight our palate with samples from Moe's and satiate our curiosity with the science of smoking and barbecue. Participants will get an in-depth look at the process of smoking meats, an explanation of the changes the meat undergoes, and a breakdown of how to design and build a smoker. Jeff, Ben, and Mike will explore the ideal ingredients for a southern barbecue rub, and share tips and techniques to creating your own. Don't miss this one-of-a-kind opportunity to learn from the local experts on Thursday, April 13 at 6:30pm.
Moe's had been bringing people together for great food and good times since 2001. Combining the love and knowledge of fire roasting meats, smoking meats using fruit woods, and designing a distinct southern sauce, Moe's lets the final product speak for itself. Bonfire Brewing will be generously providing libations to wash down delicious smoked meat samples.


IF YOU GO…
What: The Science Behind Barbecue and Smoking
When: Thursday, April 13th, 6:30-8:30pm
Where: Walking Mountains Science Center in Avon
Cost: $10 fee for supplies, Registration Required
Space is limited, please visit click here to register and learn more about upcoming topics!