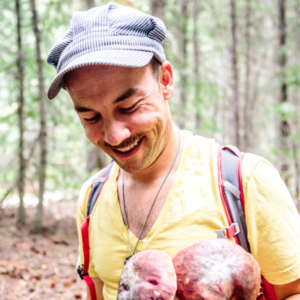 Have you ever wondered how something works or how something was made? In the monthly Science Behind series, we partner with a guest presenter to explore a large variety of interesting topics. The Science Behind series offers opportunities for adults to apply new knowledge and skills to everyday life, while having fun!
** This Science Behind event took place in August, 2017 **
The Science Behind Mushrooms & Foraging for Wild Mushrooms
It's easy to take in the grand vistas and exquisite scenery of the valley, but often we pass over the smaller features of our dynamic environment. Hiding just underfoot nearly everywhere we go is a complex and fascinating organism that has lived on this planet for millions of years. Long before trees shaded our slopes, mushrooms occupied and enhanced Earth's changing landscapes. Join Walking Mountains Science Center with mycology enthusiast Michael Heim on Friday, August 11th for a fungi foray field day.
An introduction to the study of mushrooms, or mycology, is the perfect way to leap into harvest season. Participants will learn to identify the ideal growing conditions and habitat for local mushrooms, practice responsible foraging ethics, and take home a bounty of their own if ideal conditions exits.
Not only do these ancient fungi form symbiotic relationships with countless plant species, many of them provide nutrition for humans and wildlife alike. Harvesting wild mushrooms is an activity that takes time and patience. Knowing which flowering fungi to choose and which to avoid is a skill earned through practice and training.
Michael will also present on Thursday, August 10th at 6:30 pm for an evening of all things fungal as part of Walking Mountains' monthly Science Behind series (register here). You will learn the basics of identification and classification, delve into etymology and best harvesting practices, and explore the delicious and nutritious side of these forest floor dwellers. His dynamic presentation and practical application will leave participants with a new understanding and appreciation for magical mycelium, fantastic fungus, and miraculous mushrooms. If the fleshy, edible fruiting body of macrofungi intrigues your curious nature, come join us!
Please note you must register separately for the field day (paid) and evening presentation (free).
IF YOU GO…
What: The Science Behind Mushrooms
When: Thursday, August 10th, 6:30-8:30 pm
Where: Walking Mountains Science Center in Avon
How much: FREE, $5 donation suggested
About the Presenter:
Michael Burke Heim founded his business, Ensō Farm and Forage, to unite his passions for foraging, land stewardship, farming, and sharing the joy that all those things bring with his community. Ensō's mission is to celebrate and protect nature's inherent genius as exhibited through fungi, with education, low-impact foraging practices, and cultivation. "Wild food is pure, honest. I want to honor that purity. Ultimately leaving behind a legacy of good habits & a protected environment, cultivating ethical standards that become industry standards" Michael proudly proclaims.
Michael has lead forays for the Denver Botanic Gardens, the Center for Integrative Botanical Studies, & the Boulder Living Arts School. In 2014 he produced and facilitated a 2-day medicinal mushroom workshop with Robert Rogers, author of The Fungal Pharmacy and revered herbalist based in Alberta Canada. In 2015 Michael studied lab technique and mushroom cultivation under Dr. Daniel Tura at Aloha Medicinals in Carson City, NV. If that isn't enough, Michael has worked in the culinary field for over 16 years with many years of experience working with wild mushrooms in that context. He is a proud member of the Colorado Mycological Society.