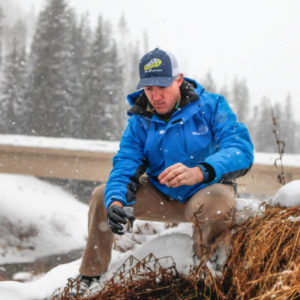 Have you ever wondered how something works or how something was made? In the monthly Science Behind series, we partner with a guest presenter to explore a large variety of interesting topics. The Science Behind series offers opportunities for adults to apply new knowledge and skills to everyday life, while having fun!
** This Science Behind event took place in October, 2018 **
What is the Science Behind the Health of Gore Creek in Vail?
What's bugging Gore Creek? In 2012, Gore Creek was listed as an impaired waterway under the Clean Water Act. The creek was listed, not due to high levels of a particular pollutant, but because benthic macroinvertebrates were disappearing from the creek. Benthic macroinvertebrates are animals without spines that live all or part of their lives under water. Mayflies, stoneflies, midges, leeches and glass worms are some examples. These macroinvertebrates are a crucial food source for many larger animals like trout, birds, spiders and bats so they are a critically important part of Gore Creek's food chain. Their abundance and the types of species that can be found in a creek are also a good indicator of the health of that aquatic ecosystem. When the bugs start to disappear, scientists know something is wrong and other species may soon follow.
Join Walking Mountains Science Center and Watershed Education Coordinator for the Town of Vail, Pete Wadden, to explore the science behind the health of Gore Creek. Participants will discuss possible strategies to restore riparian ecosystems as well as investigate the very macroinvertebrates that keep a wetland community thriving.
Falling macroinvertebrate scores have raised the alarm bells in Vail. As a result of rapid development and urban-like density, impervious surfaces funnel polluted water from streets and rooftops into storm drains and Gore Creek. There are less soil and fewer plant roots to aid in filtration and erosion control. The causes are widespread, so solutions have to be too. Learn more about the challenges facing our community's favorite waterway, and find out how you can play a part in the solution.




Pete Wadden is the Town of Vail Watershed Education Coordinator. He has an M.A. in Environmental Studies from Prescott College and seven years of experience in stream restoration in locations including Maine, Ohio and Colorado. Pete is an avid boater and angler and feels fortunate that he is able to incorporate his passion for rivers and creeks into his career.

IF YOU GO...
What: The Science Behind Gore Creek Health
When: Thursday, October 12 | 6:30 pm
Where: Walking Mountains Science Center, Avon
Cost: FREE, $5 donation suggested