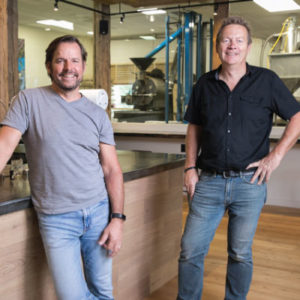 Have you ever wondered how something works or how something was made? In the monthly Science Behind series, we partner with a guest presenter to explore a large variety of interesting topics. The Science Behind series offers opportunities for adults to apply new knowledge and skills to everyday life, while having fun!
** This Science Behind event took place in December, 2017 **
What is the Science Behind Coffee?
Americans consume 400 million cups of coffee per day, making the US the leading consumer in the world. Where ever you go, coffee shops seem to be on every corner. The rich coffee smell that floats out of a shop invites all who walk by to take a break inside the comfy little store. Coffee is the fuel for people that are thirsty for an extra shove of energy. Coffee is the magic potion for all sleep-deprived students. To some, coffee is a drink of refreshment that their taste buds enjoy. To others, coffee is essential to life.
Join Walking Mountains Science Center at The Roastery Café at Vail Mountain Coffee & Tea Co. in Minturn on Thursday, December 7th at 6:30 pm for an evening discussing the science of growing, roasting, and tasting coffee. Participants will have the opportunity to tour the roasting facility and discover the science of roasting green coffee. Learn how to taste coffee scientifically by differentiating the flavors and terroir of four coffees. These coffees are directly sourced from the four major coffee regions of the world. Participants will discuss sustainable agricultural practices and the pros and cons of Fair Trade.
Different types of coffee are brewed from different use of coffee beans, which tend to take on flavor characteristics that have been affected by geography and topography. There are many choices of coffee beans, ranging from Colombian dark roast to Italian light roast. The type of coffee bean used determines the type of coffee that is brewed. Most people enjoy coffee with cream and sugar, but there are always some brave people out there who enjoy coffee as it is: plain black.
Craig Arseneau and Chris Chantler were industry pioneers and the first to bring specialty coffee to the Vail Valley. Together they founded the Daily Grind 1989 and their roasting operation, Vail Mountain Coffee & Tea Co in 1993. They have traveled the world sourcing coffee and tea and have built many sustainable relationships with farmers over 25 years. Now with over 375 wholesale accounts they have gone back to their roots and opened a Roastery Cafe in Minturn. The cafe features the latest in coffee brewing techniques showcasing their passion for every step of their business from green bean to cup.

IF YOU GO…
What: The Science Behind Coffee
When: Thursday, December 7th | 6:30-8:30pm
Where: The Roastery Café at Vail Mountain Coffee & Tea Co. Meadow Mountain Business Park, 23698 US Hwy 24, Minturn, CO 81645
Cost: FREE, $5 suggested donation, Registration Required

Space is limited, please visit www.walkingmountains.org/sb to view upcoming topics and to register!