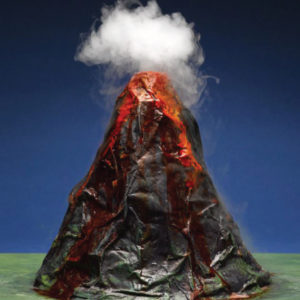 Want a science adventure that sticks? Let your child be the scientist. I had such an experience in fifth grade, when I demonstrated to my class the volcanoes we'd built in science class at my previous school. I felt the expert, proud of my ability to share a scientific experience with my classmates, particularly since one of the volcanoes actually involved sparks and a bit of sulfur to make it stink. Now, as a teacher this sense of expertise is an experience I want every student to have, though it need not necessarily be centered on volcanoes.
But baking soda and vinegar volcanos are so overdone you say? Don't worry, we can fix that. Build several volcanoes in different shapes to learn about the different types (paper mache or plaster of paris strips make great building materials), then suit the eruption to the volcano. That classic baking soda and vinegar eruption makes a great shield volcano, à la Mauna Loa in Hawaii. If you've no vinegar on hand, ketchup also works, plus it's red. Yeast and hydrogen peroxide will make a similarly ooze-y, if somewhat more energetic volcano.
For something a bit more explosive, build yourself a stratovolcano à la Mount St. Helens (clay around a soda bottle) and erupt it with mentos and diet coke. Adding some dry ice makes great smoke and for the truly adventurous a variety of recipes can be found for volcanoes you actually light on fire like a firework. Once you've built your volcano (or volcanoes) of choice, experience with the eruptions by changing the amounts of ingredients or the way in which you add them. As always, use caution with chemicals and fire and most importantly have an explosive amount of fun.
20 Great Adventures is a mini blog series by Walking Mountains Science Center's Youth Programs staff to celebrate the organization's 20th anniversary of providing natural science education to the Eagle Valley.
Kelly Williams is a Graduate Fellowship Educator. After two years of classroom teaching, Kelly is excited to return to the great outdoors and explore Colorado while sharing her passion for science as an educator at Walking Mountains.