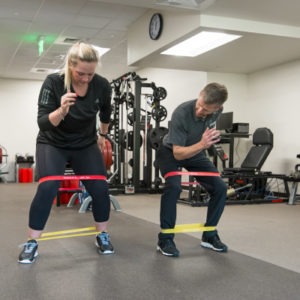 Have you ever wondered how something works or how something was made? In the monthly Science Behind series, we partner with a guest presenter to explore a large variety of interesting topics. The Science Behind series offers opportunities for adults to apply new knowledge and skills to everyday life, while having fun!
** This Science Behind event took place in February, 2018 **

The Science Behind Performance Training
Eagle County is home to some of the most athletically motivated individuals in the nation and possibly the world. To many in the community health and strength are paramount in life, but small, imperceptible incorrect movements can lead to bodily injury and persistent pain over time. Not everyone has perfect athletic form, but everyone can learn to correct the patterns the body makes to prevent discomfort and promote vitality.
Join Walking Mountains Science Center with special guest Chris Knerl from Howard Head Performance on Thursday, February 15th at 6:30 pm to discover the ins and outs of Human Performance. This interactive presentation will cover the seven primal movement patterns that create the foundation of all human movement to what separates a weekend warrior from an elite athlete. Chris will discuss and demonstrate common movement dysfunctions, what causes them, how to prevent them, and how to correct those already present. Attendees will walk away with a few new tools in there bag to help prevent injury and improve performance.
Chris Knerl is the Performance Manager for Howard Head Performance, a new service line Howard Head is offering in their Vail and Breckenridge facilities. Chris is a Certified Athletic Trainer, Exercise Physiologist, and Certified Strength and Conditioning Specialist with a bachelor's degree from the University of Nebraska in Education and Human Sciences and a master's degree from the University of West Florida in Exercise Science.
Prior to joining the Howard Head team, Chris spent 2 years building and managing a Sports Performance Program for an orthopedic group in Upstate New York where he worked with athletes of all ages and ability levels. The majority of Chris' career however, has been spent working for the United States Special Operations Command where he devoted 8 years to the development and implementation of a Human Performance Program that provided physical training and rehabilitation for some of the world's most elite military forces.
Not only has Chris used his extensive knowledge of the human body to train athletes and soldiers all over the world but he himself is an athlete. Chris is a world class triathlete, cyclist, and runner who is interested in pretty much any outdoor activity.
IF YOU GO…
What: The Science Behind Performance Training
When: Thursday, February 15th | 6:30-8:30pm
Where: Walking Mountains Science Center in Avon
Cost: FREE, $5 suggested donation, Registration Required
Space is limited, please visit www.walkingmountains.org/sb to register!