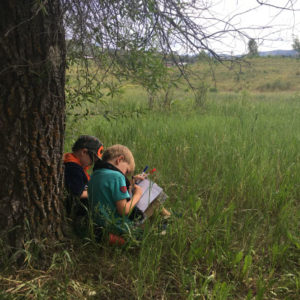 For our next Great Adventure, I invite you to break out a pencil and a pad of paper. If you want to get real wild, I welcome you to add some colored pencils or crayons to the mix. Have you guessed it yet? Our next great adventure is Nature Journaling. Nature journaling is a fantastic means to slow down and learn from the natural objects that we often ignore.
Nature journaling is not about being a fantastic artist, but rather about looking closely and recording the details of the object in question and making an annotation of the object. As a result, you will likely feel a greater attachment and new understanding for your object of choice.
If you are up for the challenge I invite you to grab an object from outside; it can be as simple as an evergreen leaf, a piece of dry grass, or a rock. Next, you will record as much information as possible about your object in your journal. It can be helpful to start by tracing your object and adding in the details that help distinguish your object from those around it. If you prefer writing, you can use words to record information about your object. When you have completed your sketch, you will know that you have succeeded if you would be able to pick your object out of a line-up of similar objects by looking at your journal entry.
If you would like to gain more inspiration for nature journaling I invite you to visit John Muir Laws' website: https://johnmuirlaws.com/. His work been an inspiration to my own nature journaling practice.
20 Great Adventures is a mini blog series by Walking Mountains Science Center's Youth Programs staff to celebrate the organization's 20th anniversary of providing natural science education to the Eagle Valley.
Sara Monson is the School Programs Coordinator at Walking Mountains Science Center. She is passionate about connecting people to nature and environmental education.