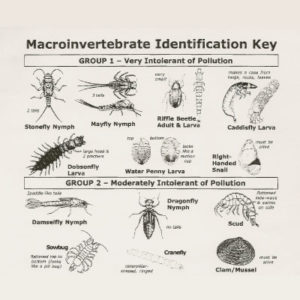 There's an entire world of small (macro to be precise) creatures (of the invertebrate variety) living between, beneath and attached to rocks, pebbles, sticks in a creek nearby. Take your family on a treasure hunt for macro-invertebrate critters!
The best way to collect Benthic (bottom-dwelling) Macro (can see with the naked eye) Invertebrates (organisms without a backbone), or "BMI's" is to get on your muck boots, dress in layers, and most importantly, prepare for an adventure. If you happen to have some kind of net at home, bring it along (so long as it has small enough mesh that a lentil couldn't fit through it) – if not, that's alright! A bucket and an ice cube tray will do for this exploration.
BMI's (Benthic Macro Invertebrates) like to cling to pebbles and debris along rocky creek bottoms, especially where there are riffles. Riffles are shallow, rocky areas in a channel where the water may break over exposed rocks – look for bubbles and turbulent water - BMI's need their oxygen and will often hang wherever there are bubbles! Once you've located a riffle, fill your bucket with water and keep it close by. If you have a net, one adventurer can become the net holder, entering the creek just below the riffle, facing upstream, with the bottom of the net along the creek bottom. If you don't have a net, that's a-okay! Start by turning over larger sized rocks – pull them out of the water and see if there are tiny little creatures hanging on. If you find some, gently remove them from the rock and place them in your bucket.
If you're not one to touch crawling critters, you can place the rock in the bucket and wait to see if they move about (its best if you have a white or light color bucket so you can see them well). Next, work your way into the smaller pebbles – if you have a net, you can rub these rocks under water, using the flow of the creek to catch the invertebrates in the net. Once caught, you can dump the contents of the net into the bucket and search for BMI's in the bucket.
Now for the fun part: fill your ice cube tray with water, and begin to separate the BMIs into the tray cells, sorting them for similar characteristics – are they squirmy? Look like they're wearing armor? Do they have two tails or three? Once you've sorted your macros, use this mini guide to identify what you've found! Please be careful to treat them gently – remember – they don't have spines and need a soft touch to survive this adventure!
20 Great Adventures is a mini blog series by Walking Mountains Science Center's Youth Programs staff to celebrate the organization's 20th anniversary of providing natural science education to the Eagle Valley.

Kelsey is a born and raised Vermonter whose early years covered in mud and swimming in the Connecticut River cultivated her passion for environmental education. Kelsey shares her love of the outdoors as a graduate fellow and educator here at Walking Mountains.