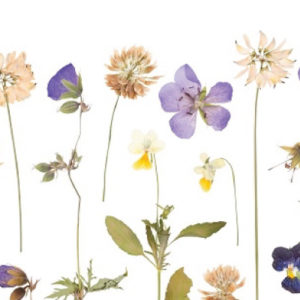 April showers bring May flowers, and May is a great month to learn to press flowers! Some of the early season blooms, like spring beauties or violets form beautiful silhouettes when pressed flat. Once your flowers are pressed and dried, they can be used to add a little touch of beauty to lots of things – notecards, candles, notebooks, message boards, picture frames, the possibilities are virtually endless!
First of all, be sure that you are practicing ethical collecting. Only take a few blooms from any given patch of flowers so that you don't deplete an area. This also allows you to enjoy the benefits of a long walk while collecting your specimens. To keep your specimens from being squashed (which is very different from being pressed!), a school lunchbox makes a great container (the old-school square or rectangular ones, not the new ones with the cold packs), but you can also use any kind of Tupperware or food storage container.

Once your specimens are collected, the materials for basic pressing are simple, although you can also purchase pre-made presses that come in various sizes. But to do a basic home pressing, you will need the following: newspaper, several sheets of corrugated cardboard, and two straps (belts will work too). Start your "stack" with a sheet of cardboard, followed by 2-3 sheets of newspaper. Lay your flowers out gently on the top sheet of newspaper, then follow this with more newspaper and cardboard. At this point, gently press down to flatten your flowers before repeating the sequence to create sheets for all of your flowers. Finally, stack all of your cardboard-newspaper-flower layers and wrap the straps or belt around them, and tighten. Place the whole package in a dry, well-ventilated place and leave it for 2-3 days. When you carefully open up the package, you will find your flowers flattened and dried, and you will be able to preserve that little dash of springtime for a long, long time. Have fun!
20 Great Adventures is a mini blog series by Walking Mountains Science Center's Youth Programs staff to celebrate the organization's 20th anniversary of providing natural science education to the Eagle Valley.