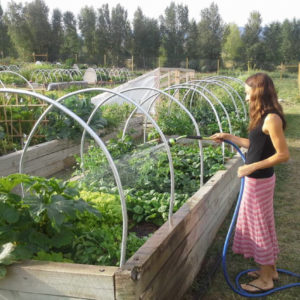 Have you ever wondered how something works or how something was made? In the monthly Science Behind series, we partner with a guest presenter to explore a large variety of interesting topics. The Science Behind series offers opportunities for adults to apply new knowledge and skills to everyday life, while having fun!
** This Science Behind event took place in May, 2018 **
The Science Behind Backyard Gardening With What You Have
In the 1920's head lettuce was the crop of choice in Avon and neighboring Beaver Creek and Bachelor Gulch. It was called "Green Gold" due to its ability to provide prolific fresh lettuce weeks after the nation's standard lettuce harvest was gone. The valley's climate is perfect for leafy greens like head lettuce, but what other crops grow bountifully in Eagle County?
Join Walking Mountains Science Center and Patricia Esperon from Bare Roots, a Project of the Vail Valley Salvation Army, on Thursday, May 10th at 6:30 pm to learn the basics of gardening in Eagle County. This free two-hour program is intended to be an introduction to gardening including seed and plant choices for Eagle County, soil amending, and plant care.
The majority of the program will be an interactive workshop demonstrating how to make productive pallet gardens. Each participant will plant a pot of potatoes that they can take home with them. This program will end with a discussion about beneficial insects and animals which will include live worms, ladybugs, and garter snakes.
Patricia Esperon is an Eagle County Master Gardener. She holds her bachelor's degree in psychology and is currently in the process of earning her master's degree in counseling. She is also working towards her certificate in horticultural therapy to be a Registered Horticultural Therapist. She will counsel individuals in a garden or greenhouse setting when she has completed her degree. Additionally, she enjoys teaching gardening and nutrition which she will continue to do as well. She is employed by Bare Roots, a Project of the Vail Valley Salvation Army as the Greenhouse and Garden Project Manager.
Patricia lives in Eagle County with her family where she enjoys engaging in outdoor athletic activities when she is not immersed in gardening.
IF YOU GO…
What: The Science Behind Gardening with What You Have
When: Thursday, May 10, 2018 | 6:30 pm
Where: Walking Mountains Science Center in Avon
Cost: FREE | Suggested $5 Donation | Registration Required
Space is limited, please visit http://www.walkingmountains.org/sb to register!