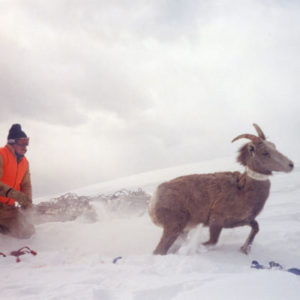 Have you ever wondered how something works or how something was made? In the monthly Science Behind series, we partner with a guest presenter to explore a large variety of interesting topics. The Science Behind series offers opportunities for adults to apply new knowledge and skills to everyday life, while having fun!
** This Science Behind event took place in August, 2018 **
The Science Behind Wildlife Biology with Colorado's Bill Andree
The Eagle River Valley is home to a myriad of species of wildlife including the charismatic megafauna that symbolize the American West. The black bear, mountain lion, lynx, moose, bighorn sheep, and many other mammals share the southern Rocky Mountains that we also call home. Though we may see them occasionally on remote trails, or have tattoos of their silhouettes, how much do we really know about their physiology, their behaviors, or how humans profoundly affect their lives?
Join Walking Mountains Science Center with special guest Bill Andree, former District Wildlife Manager for the Vail District, on Thursday, August 23rd at 6:30 pm for an evening dedicated to the Science Behind Wildlife Biology. Through engaging discussion Bill will address and debunk common wildlife myths and misunderstandings, tie human activity to animal behaviors, and discuss the biology of what makes these creatures so specially adapted to live in mountain environments. Wildlife specimens will be on display for examination and learning purposes.
Wildlife biologists are scientists who educate communities on animal habitats and issues associated with undomesticated animals. Their knowledge and experience from examining animals in their natural habitats can help residents understand eating patterns, environmental factors and safety concerns that might put animals or unsuspecting humans at risk. Wildlife biologists are important to the safety and preservation of animal species, but they also benefit society as a whole. They observe animals in their natural habitats and conduct experimental studies to test for environmental hazards, diseases and unusual movement patterns. Without wildlife biologists, it is difficult for some communities to ensure the safety of animals and humans who live in the area.
Bill Andree graduated from CSU with a B.S. in Fishery and Zoology and started working with the Colorado Division of Wildlife in 1980. He has been the District Wildlife Manager for the Vail District since 1981. From 1989-1991 he supervised the study on Bighorn Sheep at Booth Creek and supervised the Colorado Lynx survey crew from 1991-1993. He has been published in Wildlife Society Bulletin in 1995, and is one of the co-authors of The Effects of Ski Area Expansion on Elk. Bill is a member of the Colorado Division of Wildlife Lynx Recovery Team. In 1985 he received the award for Colorado Wildlife Officer of the year by the Shikar-Safari Club International, he was the 1991 Wildlife Professional of the year by Colorado Trappers Association, the 1992 Professional Achievement Award in Wildlife Management by Colorado Chapter of The Wildlife Society, and in 2007 he received the Wildlife Lifetime Achievement Award by the Colorado Division of Wildlife. Bill officially retired from the Colorado Parks and Wildlife in July of 2018.
IF YOU GO…
What: The Science Behind Wildlife Biology
When: Thursday, August 23, 2018 | 6:30-8:30pm
Where: Walking Mountains Science Center in Avon
Cost: FREE, $5 suggested donation, Registration Required