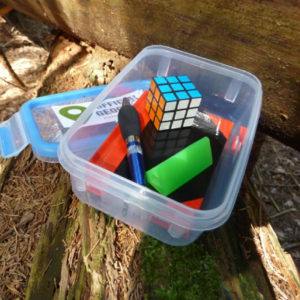 Have you ever felt the excitement of a treasure hunt? A true mysterious treasure hunt, where you unravel clues and decipher codes to find an unknown bounty? Many of us haven't searched for treasure in real life, but maybe you have felt the excitement through reading a book or watching a movie about people on a treasure hunt. (Think Goonies) But there is a way you and your family can engage in the excitement of an honest-to-goodness hunt for treasure.
Geocaching is the modern day equivalent of treasure hunting, complete with a technical twist. Your clues are longitude and latitude coordinates combined with riddles or cryptic hints. The treasures, or "geocaches" are hidden in a variety of locations, some in urban areas right under your feet (or above your head), while others are found out in the rugged backcountry, requiring map-reading and compass skills combined with a sense of adventure. Interestingly enough, many are "hiding in plain sight", in that what looks like an ordinary rock is actually a fake, plastic rock with a hidden chamber within.
The "sewer pipe" protruding from the ground might really be a dead-end pipe with the geocache hidden inside. Once you find the geocache, there will usually be a log inside for you to sign (proving you found it) and, depending on the type of geocache, there will often be a small treasure. But beware! The treasure is not meant to be taken, but exchanged. You should bring with you a small token to leave for the next person. It doesn't have to be expensive or big (in fact, it needs to be small enough to fit in the geocache), but you should find something to leave. (Think matchbox cars, puzzle boxes, troll dolls, etc.)
There are all different levels of geocaches, from those designed for beginners to more difficult ones for once you are a pro. There are also different types of geocaches, some focusing on a physical treasure you find while others, like the EarthCaches, are designed to help you learn about the location. To learn more about geocaching and to get involved, go to https://www.geocaching.com/play. Have fun!
20 Great Adventures is a mini blog series by Walking Mountains Science Center's Youth Programs staff to celebrate the organization's 20th anniversary of providing natural science education to the Eagle Valley.
By Jaymee Squires