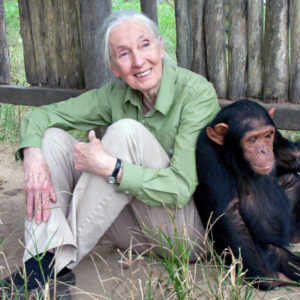 She is an icon in so many ways, with a recognizable image: dressed in olive green or khaki with her grey hair pulled back into a ponytail, she sits with a chimpanzee. You know Jane Goodall, but what do you really know about what's she's done—not just for chimpanzees, and species conservation, but her impact on environmental stewardship and the fight against climate change?
When Jane Goodall was 26, she journeyed into what is now Tanzania, and took a different approach to observing animals. Working for the famed anthropologists Mary and Louis Leakey, she observed chimps in the wild, gave them names, and noted their personalities. Due to her incredible research and new angles of observation, she found that chimpanzees acted much more like humans than had been previously considered. While today, we take that information as obvious, at the time, Goodall's research offered a startling alternative.
Two of the key findings Goodall discovered during her research revolutionized the way the scientific community thought about chimpanzees: the first that they are able to create and use tools; and second, that they are omnivores rather than vegetarians. The first observation took the world by shock—previously, only humans were considered to be able to construct and use tools. Goodall also discovered the violent tendencies of chimpanzees, as she watched the dominant females attack and even eat other chimpanzees. Due to her ability to connect with the chimpanzees, as evidenced by her decision to name rather than number them, she became part of the troop, and is still considered to be the only human to this day to achieve this.
Goodall's work changed the way we see chimpanzees, apes, and how we work to protect animals and their habitats. As we look at protecting the great apes, we must protect their habitats—but we cannot do that without the support, understanding, and the care of the local people who live close to the apes' habitats. Goodall spoke of a moment of clarity, overlooking the destruction of the chimpanzees' habitats in Africa because the local people needed to raid their national park to find sources of income to feed their families. Without working with to combat poverty and find alternative sources of income for the local people, the work of conserving the environment will fail. As such, the primary focus of the Jane Goodall Institute is conservation, with a motto of "Until people are at the center of conservation, we will not conserve the environment."
Goodall's work in environmental stewardship is key to the impact she has worldwide. She travels the globe teaching about the importance of protecting the local environment to aid in the protection of habitats. Because of her beliefs in bringing children to the table to help slow climate change, she helped create a youth organization designed to inspire every person "to take action to make the world a better place for people, other animals, and the environment." She said in a 2005 interview with NPR "If [human] children are taught the importance of conserving the environment and showing respect for all life, particularly respect for all animals, then they will grow up automatically being better stewards."
Lizzy Owens is the new Associate Director of Development at Walking Mountains Science Center in Avon. To learn more about Walking Mountains' youth programs, please check out our website at www.walkingmountains.org.