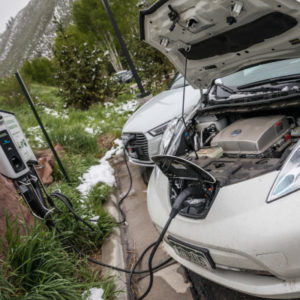 Have you ever wondered how something works or how something was made? In the monthly Science Behind series, we partner with a guest presenter to explore a large variety of interesting topics. The Science Behind series offers opportunities for adults to apply new knowledge and skills to everyday life, while having fun!
** This Science Behind event took place in September, 2018 **


Learn The Science Behind Electric Vehicles
Electric vehicles are the way of the future, with more options, styles, and models available each year. They're quiet, they're quick and they're 36% less polluting than a vehicle with a combustion engine, on average. But do they make sense for the High Rockies? Will it fit into your lifestyle? When is the right time to buy one? We have the answers for you!
On Wednesday September 12th, Walking Mountains Science Center is proud to present The Science Behind Electric Vehicles. Join our staff and special guest Steve Hawkins from Vail Mountain Haus. A longtime Electric Vehicle enthusiast, Steve will share about the history of electric vehicles, the many components involved, the evolution of charging techniques as well as debunking common myths. Before the presentation, attendees will have a special opportunity to see, ride and drive some popular EVs and PHEVs, like the Chevy Bolt, Honda Clarity and Nissan Leaf.
This event is in conjunction with an exciting opportunity here in Eagle County, the Electric Vehicle Sales Event! Walking Mountains has partnered with local municipalities, nonprofits as well as organizations from Pitkin and Garfield counties to help to promote this limited-time offer on seven electric and plug-in hybrid vehicles. From August 1st until October 31st, businesses and residents can take advantage of dealer discounts on top of state and federal tax incentives. You can find more information about the Electric Vehicle Sales Event here!
The Climate Action Collaborative is hard at work to implement the Climate Action Plan for the Eagle County Community which includes significant greenhouse gas emission targets, including a 10% reduction in transportation emissions by 2025. Come learn about electric vehicles and how they can help reduce your carbon footprint while celebrating National Drive Electric Week!
IF YOU GO...
When: Wednesday, September 12th | 5:00 pm
Where: Walking Mountains Science Center, Avon
Cost: FREE! Space is limited, click here to register.