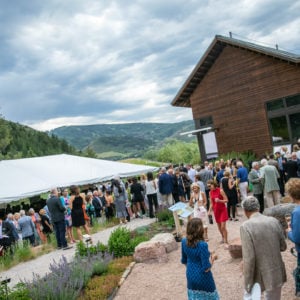 A Taste of Nature, Walking Mountains Science Center's annual gala, will be held on July 9 with a festive cocktail party and catered dinner under a tent on our beautiful Tang Campus in Avon.
This year we are delighted to honor Amanda Precourt with our Reach for the Peak Award in recognition of her visionary support in empowering girls and her outstanding role in helping create the new Borgen Precourt Center for Sustainability which opened in April at Walking Mountains.
We are also thrilled to present the Founder's Stewardship Award to Pam and Ben Peternell in acknowledgement of their transformational support in ensuring the sustainability and growth of Walking Mountains staff.
Due to tremendous interest, we have already sold out! If you would like to be put on our wait list and ensure an early registration invitation for next year, please contact Lizzy Owens, Associate Director of Development, at lizzyo@walkingmountains.org.
We would also like to thank our Dinner Champions, Dinner Sponsors, Dinner Chairs, Dinner Committee, Corporate Sponsors, Corporate Partners, and Media Partners. For more information, or to do make a donation please go to our A Taste of Nature website.