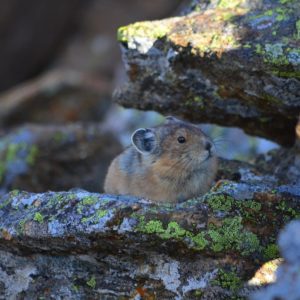 Volunteers can help scientists understand how climate change is affecting the American pika in the White River National Forest
Avon, CO-- Hikers are needed to volunteer to collect data to help scientists understand the potential impacts of climate change on the American pika and their alpine habitat. Hikers who spot pikas are often charmed by these cute relatives of rabbits and hares. Recent disappearance of pikas from parts of the western U.S. has been linked to climate change. The Front Range Pika Project (FRPP), the Forest Service and Walking Mountains Science Center are seeking volunteers to do American pika surveys on the White River National Forest this summer.
To become a volunteer, you must attend one classroom AND one field training, be comfortable safely hiking and navigating in the backcountry, and be able to visit and survey at least one site in the WRNF before October 31st. Minors must be 12 years of age and accompanied by a parent or guardian. Trained volunteers will sign up to visit one of the WRNF sites on their own anytime between the trainings and the end of October.
"Colorado's climate is changing, and pikas are sensitive to changes in temperature, snowpack and vegetation," said Megan Mueller, Conservation Biologist with Rocky Mountain Wild. "A recent National Parks Service study predicts that pikas may disappear from Rocky Mountain National Park by 2100 under some climate change scenarios. Pikas face an uncertain future, and we need volunteers to help us keep track of how pika habitat is changing."
"Pikas are a focal species for the White River National Forest, said Jennifer Prusse, District Wildlife Biologist with the Eagle Holy Cross Ranger District. "Studying pikas gives the Forest Service a deeper understanding of the health of alpine ecosystems. This citizen science initiative will help the Forest do large-scale monitoring and inform management."
"We are excited to give people in our community an opportunity to hike with a purpose and collect data inform the White River National Forest's management of wildlife and alpine ecosystems as Colorado's climate changes," said Kaitlyn Merriman with Walking Mountains Science Center.
For more information about the Front Range Pika Project and to sign up to volunteer, please visit www.pikapartners.org or contact frpp@rockymountainwild.org.
Background:
The FRPP (a partnership led by Rocky Mountain Wild and Denver Zoo), is a citizen science initiative that engages the public in field research on the potential impacts of climate change on American pika and alpine ecosystems across Colorado. Our data is used by researchers and land managers to inform efforts to conserve American pika and alpine ecosystems. Through engagement in research, the FRPP also provides an opportunity for concerned citizens to learn about the American pika, and play an active role in promoting the conservation of important ecosystems and natural resources under future climate change scenarios.
Rocky Mountain Wild and the White River National Forest were recently awarded a grant from the U.S. Forest Service Citizen Science Competitive Funding Program (CitSci Fund) for our White River National Forest citizen science initiative.
Volunteers must be capable of navigating in the backcountry and hiking on talus at high altitudes. Volunteers will have the option of either attending trainings and then conducting one or more pika survey(s) at long-term monitoring sites; or using an app to document pika observations while recreating anywhere in the Forest. Trainings will be held in July and early August, and surveys will take place by the end of September. Volunteers must follow safety guidelines, including hiking with a partner. Minors must be at least 12 years of age and accompanied by a parent or guardian.
Contacts:
Megan Mueller, Rocky Mountain Wild & Front Range Pika Project, 303-704-9760
Jennifer Prusse, White River National Forest, 970-827-5160
Kaitlyn Merriman, Walking Mountains Science Center, 970-827-9725 ext. 137
Classroom Trainings:
July 17th from 6-8 pm at the Summit County Community and Senior Center in Frisco
July 24th from 6-8 pm at the Walking Mountains Science Center in Avon
July 31st from 6-8 pm at the Third Street Center in Carbondale
August 1st from 6-8 pm at Red Brick Center for the Arts Conference Room in Aspen
Field Trainings (Field training details and logistics will be provided at the classroom trainings):
July 21st from 8:30 am to 1:00 pm at the top of Loveland Pass
July 27th from 8:30 am to 1:00 pm on the Brady's Lake trail in the Holy Cross Wilderness
August 3rd from 8:30 am to 1:00 pm on Independence Pass