As a nonprofit, you may be aware of Google Ad Grants but not sure how to start. The program provides an unbelievable $120,000 a year in Google Ad space, meaning every non-enrolled 501(c)3 nonprofit is losing $329 in potential advertising daily.

We began using Google Ad Grants in 2014 and have continued to optimize our campaign year after year. What we have learned along the way can greatly improve the advertising strategy of any nonprofit.
The In's and Out's of a Successful Non-Profit Google Ad Campaign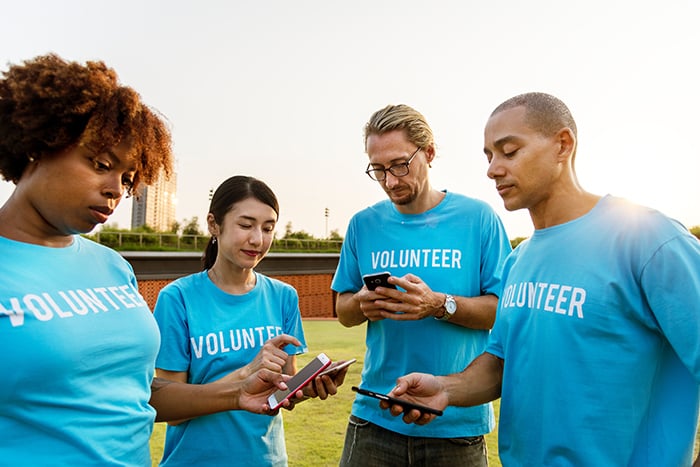 Campaign Format
The first step in creating a Google Ads campaign is to identify your goals. For example, our own goals included attracting hikers to our trail guides, encouraging businesses to take our green energy audit, and encouraging travelers to use energy-efficient transportation. For each of these goals, we formed a separate campaign and selected a landing page: the URL the ad would lead to.

Next comes conversion tracking. This counts the number of times a user completes certain actions like clicking "RSVP" or making a donation. Every campaign should have conversion tracking to measure the results.

The next step is to create and organize a list of keywords. Keywords are the search terms people use to find services like yours. Start by brainstorming possible keywords i.e.ot down relevant words and phrases that appear on your website. Add synonyms, singular and plural versions, different tenses, and different arrangements of words (e.g. walking trails CO, Colorado hiking trails, nature walks in Colorado).

Once you have a list, log into Google Ads and go to Tools > Keyword Planner > Find new keywords, and type in your ideas. Google will provide you with new suggestions to add to your brainstorm. It will also give you an idea how often each keyword is searched for and how much to bid, but you don't need to worry about that until later.

After coming up with as many keywords as you can, it is time to organize your keywords into ad groups. Name each ad group after a basic keyword, then add more related keywords containing the main idea.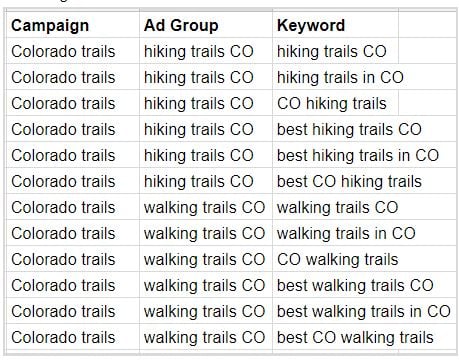 Notice how "hiking" and "walking" are under the same campaign but have separate ad groups. Synonyms, and changes in tense should have their own ad group to better customize the ad to the search terms.

It is now time to write the ads themselves. Each ad group must have 2 near-identical ads. Use each of your ads to test different marketing ideas. For example, one headline might say "Walking Mountains | Explore Colorado's Vail Valley" and another might say "Walking Mountains | Explore Vail Valley Colorado." As time passes, you will be able to observe, just like we did, which headline is more successful. At that time, you can pause the less successful ad and create another one to continue A|B testing.

Make sure you incorporate every term from your keyword list into each ad. This will make it more likely for your ad to appear and also encourage users to click on it. Each search term the user types will be highlighted in your ad, making it clear to the search engine and the user that your ad is relevant.

For the next step, your ad campaign will need geo-targeting. For example, our ad group for "snowshoeing in Vail" only appears for people searching within about 500 miles of Vail. That way, the ad won't show up for casual perusers in New York City, and will instead appear for users who are more likely to actually go snowshoeing in Vail. Proper geo-targeting shows the ad to the target audience.

Finally, your ads will need at least two sitelink ad extensions. These are links that appear under your ad, leading to useful parts of the site like "contact" or "donate." It's well worth the time to experiment with different ad extensions to see not only what extensions receive the most clicks but which ones result in the most conversions .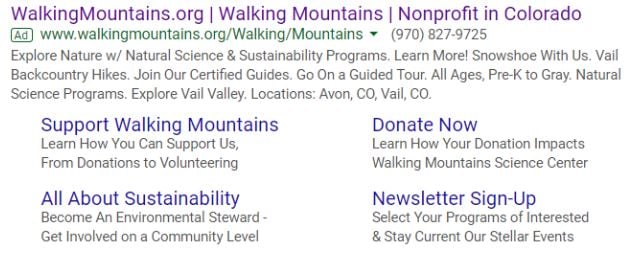 Here is one of our current ads. It includes three headline sections, a customized link, further information, and four sitelinks. Each section of the ad can be customized to better reach the audience.


Quality Score
Your click-through rate and conversion rate represent the success of your ad campaign. If users are scrolling past your ad without clicking, that means it isn't grabbing their attention. If users click on your ad but don't engage with your website, then you may need to make your website more user-friendly, engaging, or inspirational.

Google rates all of its keywords on a scale on 1 to 10 based on three measures: CTR, relevance, and landing page stats.

CTR (Click-Through-Rate) - An ad must be clicked on a decent percent of the time (about 5%) in relation to the number of impressions it receives based on recent trends.

Relevance - Google knows a keyword is relevant when it also appears on the website, especially on the landing page. High relevance is gained using other words the Google algorithm considers "related" or "similar" frequently on the website.

Landing Page Stats - Google tracks how long viewers spend on the landing page and how often they click a link that directs them to a different part of the website. For example, they may click a "learn more," "get involved," or "donate now" button.

If a keyword's quality score falls below a 3, it must be scrapped to maintain a live Google Ad Grants account. It's also a quick reference point for which ads are excelling and which need more attention.

Bidding Limits
Google recommends a bid for each keyword in order to increase your ad's chances of appearing. For example, when a user searches for "donate interview clothes" every Google Ads account bidding on that keyword has a chance of appearing. Bidding more money is the same as putting more coins in a slot machine - it doesn't guarantee that the ad will appear, but it improves the odds.

To quickly set up custom bids for each keyword, go to a campaign, select all keywords, then go to edit > Change max. CPC bids, then choose whether to set bids to first page or top of page. If you maximize for clicks, you must then cap your bids at $2.

Alternatively, set your maximum daily budget and choose "maximize conversions bidding." This does not require a $2 cap but it does give Google more control into what you're willing to spend on keywords.

If your campaign is not spending the full budget, consider adding more keywords, increasing your max CPC, or improving the quality scores of your ads.

Compliance Overview
If not handled properly, a non-profit's access to Google Ad Grants can be temporarily suspended. The most common cause is not adhering to the restrictions. To qualify, an ad campaign:
Must not use single-word keywords (except brand names)
Must not use irrelevant keywords
Must have 2+ ads per ad group
Must have 2+ ad groups per campaign
Must contain at least 2 sitelink ad extensions per ad
Must complete Google Ad Grants survey
Must have conversion tracking set up
Must have relevant geo-targeting
Must have an average click-through rate of 5% or more
We began our own Google Ads campaign in 2014 but never managed to raise our click-through-rate above 3%. Then we signed on with Intellitonic, a digital marketing agency specializing in Google Ad Grants, and raised our CTR to an amazing 9.35%, as seen below. With their help, we were able to engage the right users and get them hooked on our website. Reach out to Intellitonic and see what they can do for your own ad campaign.