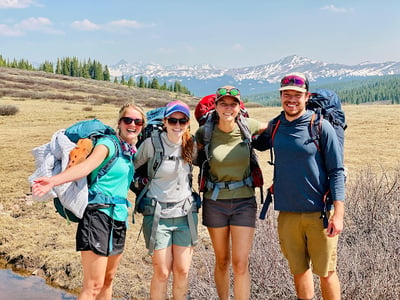 Did you know that Walking Mountains' Youth Program Educators are also graduate students in our Foley Graduate Fellowship?

This summer, Walking Mountains will celebrate the graduation of our third cohort of students from the Foley Graduate Fellowship program. For the past two years, Riley Gaines, Lydia Delehanty, Helen Thompson, and Trisha Lavery have been hard at work teaching our natural science based school programs, leading summer science camps, and attending graduate school to receive their M.A. in Science Education from the University of Northern Colorado. Their graduate work will culminate in the completion of their Action Research projects.

The action research component of the Foley Graduate Fellowship program allows our graduate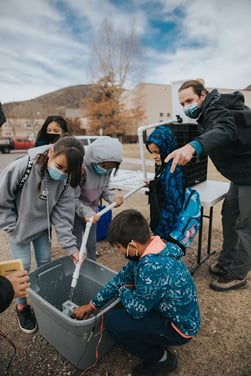 students to focus on an area of their teaching within their field that could use improvement. In the end, their research will not only benefit their own teaching, but WMSC programming and the field of science education as a whole. This cohort chose critical topics and spent a year and a half researching, gathering data, and writing research papers with guidance from their peers and advisors.
Riley Gaines' action research project stemmed from a lack of climate change education within our organization's curriculum. His goal was to figure out how we could better incorporate climate change into our programming and whether place-based climate change topics or global climate change topics would be more beneficial for our students. (Pic right: Riley Gaines leading our 4th grade Sustainable Energy Program in the Schoolyard at Avon Elementary School, Fall 2021).
Lydia Delehanty's action research project focused on a cherished Walking Mountains activity called Special Spot. Special Spot is time for students to be on their own in nature, noticing their surroundings, and/or contemplating ideas brought up in their programs. Lydia wanted to know more about how Special Spot benefits our students and whether groups that complete a Special Spot report a higher connection to nature than other groups.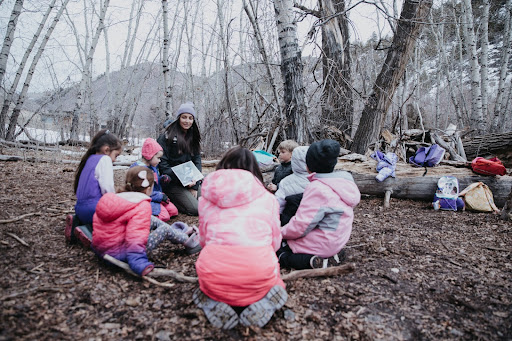 Lydia Delehanty leading a school program for Eagle Valley Elementary School 1st Graders, Winter 2022.
Helen Thompson chose to look into how the incorporation of technology into our middle school field programs impacts student engagement. Some students used a geographic information system (GIS) map to mark their locations throughout the day, whereas others used a paper map. Both groups used the maps to review what they did at each stop throughout the day. She was interested in if the technology helped the students be more engaged or not and asked for student opinions on the use of technology at WMSC.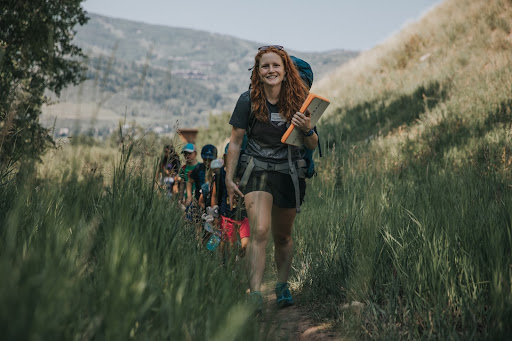 Helen Thompson leading a Summer Science Camp on our Tang Campus in Avon, Summer 2021.
Trisha Lavery's action research project stemmed from her awareness of the lack of racial diversity within the field of environmental education. She sought to begin to uncover the ways in which a lack of racial diversity amongst educators at our organization impacts the students that we teach. She wanted to know how having an all White staff of youth programs educators impacts our student's perceptions of access to outdoor spaces, such as the ones we bring them into.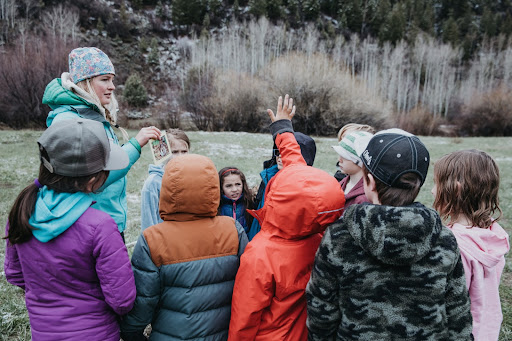 Trisha Lavery leading our new Thistle and Bee Field Science Program for 2nd graders from
Red Sandstone Elementary School, Spring 2022.
On June 22, 2022 the third cohort of fellows presented the outcomes of their action research to their advisors and the WMSC staff. From there, these four will choose whether or not they will go on to publish their findings in professional journals prior to graduation.
If you are interested in learning more about the Foley Graduate Fellowship program or this cohort's action research projects, please reach out to Jaymee Squires, Graduate Programs Director.