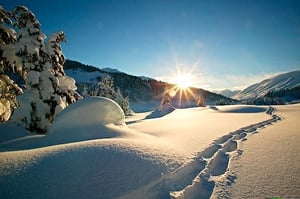 Skiing was not something I grew up with. I am from southern Ohio where my main winter hobby consisted of drinking hot chocolate (and sledding when we actually had enough snow). When I moved to Colorado, I was ready to embrace summer activities, but winter sports made me feel in over my head. I had no idea how to ski, the roads for my favorite trails were closed, and suddenly the risk of avalanches was something I had to think about anytime I considered going into the backcountry. With my inability to ski and little knowledge of avalanche safety, I decided snowshoeing trails that were well traveled was the best idea. After some discussion with colleagues, friends, and family, I decided to tackle the famed 'Meadow Mountain' near minturn. Like many of us in the valley, hiking this popular low risk backcountry area became a regular part of my weekly routine.
As I continued my weekly hikes up Meadow Mountain and watched the dozens of skiers and snowboarders fly down past me a part of me wished I was one of them. In the beginning of the season it was something that I wrote off, thinking that I would be unable to ski anything remotely close to Meadow Mountain this season. But as time went on, I became determined that by the end of the winter, I too would be skiing down with them.
My determination proposed a new problem; I don't have backcountry skiing gear and I am not in a place financially where I can buy the gear I need. I came up with the idea that I could strap my downhill skis onto my backpacking pack and put my boots and helmet inside of the pack. As I began to talk about the idea to some of my friends who also don't have skinning gear, they became interested as well. We finally picked a date to go and met in the Meadow Mountain lot. We all showed up with backpacks and began trying to find ways to strap our skis to our packs. I was lucky and my skis easily strapped onto my pack. Some of my friends struggled a bit more, trying to find creative ways to strap skis to their packs. We used extra straps, hair-ties, and rope to secure the skis. Another friend brought her snowboard and attached it to her pack using extra straps. We definitely looked like a rag tag group as we began heading up the trail. The skis and boots were not as heavy as you might expect and the company made the hike far more enjoyable. Upon reaching the top, we all switched over to our ski boots, put on our headlamps, and skied down the trail together.
This adventure was easily one of my favorites of this winter season. It taught me that skins are not necessarily needed to start enjoying the backcountry on skis. It was also a great opportunity to get outside with some friends in a COVID-safe manner. As for the avalanche danger, it is a low risk location to start backcountry skiing as the slopes at Meadow Mountain are not steep enough to avalanche and the slope almost feels as packed down as a ski area in places. If you're new to the backcountry, this is a great place to start but always be sure to look at the Colorado Avalanche Information Center's website to check for the daily avalanche report. For anyone who is interested in their first backcountry skiing experience, you don't need to wait till you have all the fancy gear, carrying your skis up Meadow Mountain is a great place to start!
---
Kelly is a naturalist at Walking Mountains Science Center who is learning to love the winter in Colorado.