Trail Name:
Brown's Loop Yeoman Park Campground Near Eagle
Walking Mountains' weekly hikes are hand picked by our hiking guides and environmental educators to get you out on the most beautiful trails at the most scenic time of year. Whether it's wildflower blooms or beating the crowds, Walking Mountains' team of nature nerds is out there to show you the best experience on our vast public lands and wild environments. Check back next week for another timely and beautiful, Hike of the Week.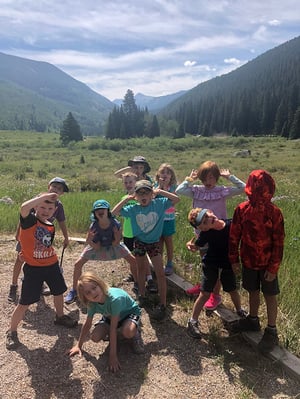 Mileage:
1.5 mile loop.

Subjective rating:
Very Easy- perfect family hike for aspen viewing and potential wildlife.

What to Expect:
The Brown's Loop trail departs from Yeoman Park Campground off of East Brush Creek Road outside of Eagle, Colorado near Sylvan Lake. Enter into the campground and proceed to the end of loop B to find the trailhead. The trail circumvents the wetlands near the headwaters of East Brush Creek, with a few boardwalks to take hikers out of the marsh, and dips in and out of the surrounding forests.
This time of year, the drive towards Sylvan Lake State Park and Yeoman Park is one of the most photographed locales in Eagle County. The large aspen stands on the road change the lighting to an amber hue, naturally displaying all shades of gold.

The hike is the perfect introduction for visitors to the valley who might not be ready to hike some of the higher elevation trails in the area (Brown's Loop starts at roughly 6,100ft above sea level with less than 400ft of gain). It's also a perfect hike for families with the next generations of environmental stewards! Make sure you stop by one of the Eagle Valley Public Library locations or one of Walking Mountains locations to check out an adventure pack with everything the kiddos will need for a day of trail exploration!

Stewardship Message:
Often, the staff at Walking Mountains is asked, "What is a naturalist, and how can I become one?" The answer is very simple! Naturalists can be considered anyone who spends time asking questions of their natural environment and then takes the time to find out the natural processes behind what they are seeing, feeling, or experiencing. That said, anyone can be a naturalist! Utilize the local experts at Walking Mountains, the Eagle Valley Land Trust, or the Eagle River Watershed Council for answers to your questions or stop by your local library (google is also sometime a naturalist!).

Becoming a naturalist is an easy practice that we think empowers people to take ownership of their natural surroundings. With ownership comes care, and with care comes protection and stewardship. The more we know about our local ecosystems and environments the better the chance of equal cohabitation.
Hike with Walking Mountains:
Walking Mountains Science Center leads guided hikes year round for people of all ages and abilities. To see a schedule, visit www.walkingmountains.org or stop by one of their Eagle Valley Locations:
In Avon at the Buck Creek Campus behind the hospital
On Vail Mountain at the Nature Discovery Center
At the Vail Nature Center near the Betty Ford Alpine Gardens