Trail Name: Gore Creek Trail to Gore Lake
Walking Mountains' weekly hikes are hand picked by our hiking guides and environmental educators to get you out on the most beautiful trails at the most scenic time of year. Whether it's wildflower blooms or beating the crowds, Walking Mountains' team of nature nerds is out there to show you the best experience on our vast public lands and wild environments. Check back next week for another timely and beautiful, Hike of the Week.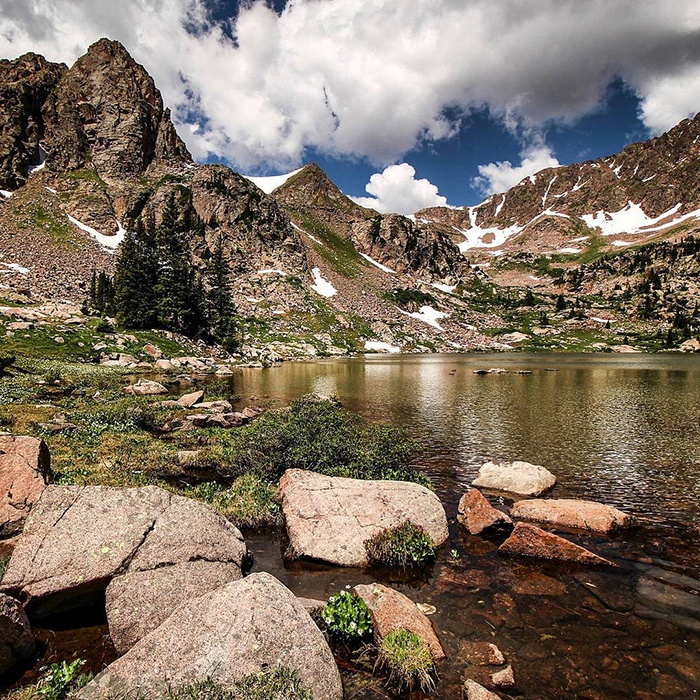 Mileage:
Roughly 6 miles to the lake, or 4.5 miles to the grave-sites.

Subjective rating:
Moderate to the graves with a difficult 1.5 mile climb to the lake

What to Expect:
The Gore Creek Trail shares a trailhead with Deluge Lake and begins adjacent to the Gore Creek Campground in East Vail. The trail begins as the exception to the "East Vail Rule" that states all trails must go straight up!

The trail parallels Gore Creek and provides excellent opportunities to dip your feet in the cold runoff. The gravesite of the Recen Brothers is located adjacent to the trail at the 4 mile mark. From here, you can either continue straight over Red Buffalo Pass into Summit County, or make a right hand turn and prepare to climb as you ascend up to the lake. Gore Lake is nestled up against the peaks and is one of the more impressive lakes high atop East Vail. Bring binoculars so you can scan the ridge line above you for mountain goats!

The Recen Brothers were Swedish immigrants who made the long journey to Colorado's high country in search of precious metals. They named their mine "The Queen of the West" and the Recen's even had a small mining camp named after them (Recen and Kokomo were mining camps near Freemont Pass that are now buried under tailiings piles and waste rock. Look for the Masonic Lodge highway marker just South of Freemont Pass on Highway 91).


Stewardship Message:
Gore Creek trail is one of the more popular trails in the area and is also located in the Eagles Nest Wilderness area so dogs must be kept on a leash and other Wilderness protections should be followed. This trail, like Bighorn Creek Trail, passes by historic reminders of a time past. Please view these artifacts with care and treat them with the same sense of stewardship as hikers provide our National Forests and public lands.

Hike with Walking Mountains:
Walking Mountains Science Center leads guided hikes year round for people of all ages and abilities. To see a schedule, visit www.walkingmountains.org or stop by one of their Eagle Valley Locations:
In Avon at the Buck Creek Campus behind the hospital
On Vail Mountain at the Nature Discovery Center
At the Vail Nature Center near the Betty Ford Alpine Gardens
In Vail Village at the Vail Nature Concierge

Info source:
Old West Ghost Legends
By Robert F. (Bob) Turpin