Trail Name: Martin Creek
Although days have been remaining hot, cooler morning are a daily reminder that fall is right around the corner. In some of the higher elevations, you can even start to see a hint of yellow on some of our valley's aspen trees—a reminder that in a couple short weeks fall colors season will be in full swing! As the changing Aspens turn our forests into patchworks of green and gold, my go to hikes shift as well. While the high alpine hikes are still gorgeous destinations, Fall often brings along colder temperatures and the first snows of the year. During fall colors season, many hikes that are otherwise unimpressive become some of the most beautiful (and often least crowded) destinations on our trails! One of my favorite fall colors hikes is Martin Creek!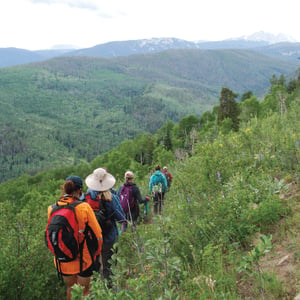 Getting There:
The trailhead for Martin Creek is west of Highway 24 on the Southern end of Minturn. Look for an inconspicuous sign pointing to Forest Service access and the Martin Creek trailhead—you will drive between a couple houses to a dirt parking area. The turn into this parking area is just past the Battle Mountain Trading Post, heading south on Highway 24. From the parking area the trail traverses left (another trail heads straight into private property). Please respect the landowners and remain on the trail!
What to Expect:
The trail starts climbing shortly after leaving the parking lot, and maintains a steady grade for its entirety up to the Grouse Mountain Connector Trail—7-8 miles, and over 2,500 ft from the trailhead. You can connect the Martin Creek trail with Cross Creek or West Grouse Creek Trails to make multi-day worthy (or a long day) trips. However, you can also hike this 3-4 miles up and enjoy a moderate day on the trail. The first few miles are through a continuous old aspen stand, making for a magical experience during peak color. As you climb higher, and into the Holy Cross Wilderness, you will start to see an even stand of young fir populating the understory, growing amongst the older aspens. This is one of the finest examples of an aspen forest being succeeded by Spruce & Fir, and demonstrates Colorado's dynamic & ever changing forests. While sitting in this beautiful setting, its easy to imagine this being a young grove completely dominated by Aspen only a couple hundred years prior. Additionally, if we were to transport a few hundred years in the future, chances our we would find this trail covered by a mature Spruce and Fir forest, with few remaining signs of the old growth aspen currently reigning over the Martin Creek drainage.
Wildlife:
On top of beautiful fall colors, and an inside look into Colorado's forest ecology, Martin Creek is home to many iconic species of Colorado Wildlife. Moose are commonly seen here, so be sure to be on the look out and keep your distance if you come across one or two.
Hike with us:
Walking Mountains is guiding Fall Colors hikes 3 times a week through October! Join us on full day excursions Monday and Thursday, and easier half day hikes on Martin Creek (as well as other beautiful trails) on Tuesdays! For our complete schedule, and to register, visit www.walkingmountains.org/hikes.

The trail climbs towards the Cross Creek trail and just a little further hikers will hit the Grouse Mountain connector, that drops down above Grouse Lake and down towards Minturn. Remember to take special note of trail intersections and make sure you plan your return carefully!