Trail Name:
Whitney Lake
Walking Mountains' weekly hikes are hand picked by our hiking guides and environmental educators to get you out on the most beautiful trails at the most scenic time of year. Whether it's wildflower blooms or beating the crowds, Walking Mountains' team of nature nerds is out there to show you the best experience on our vast public lands and wild environments. Check back next week for another timely and beautiful, Hike of the Week.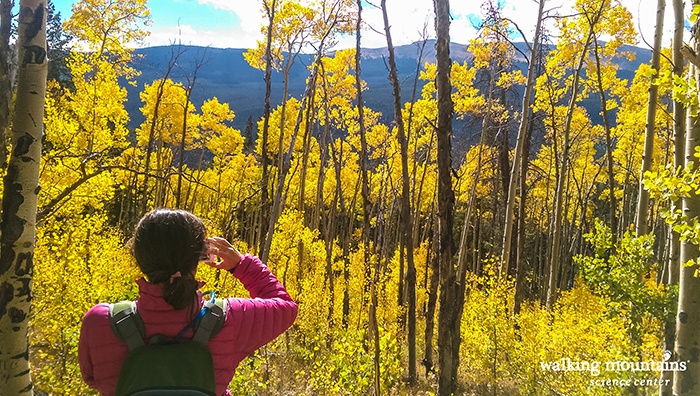 Mileage:
2.5 miles or so to the lake, roughly a 5 mile out-and-back.

Subjective rating:
Moderate to difficult. Roughly 2,000 feet of elevation gain over a short distance makes this trail "short-n-steep!"

What to Expect: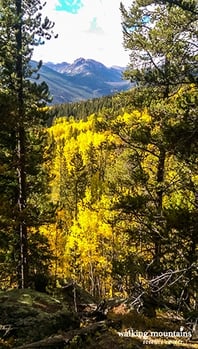 The Whitney Lake trail starts on the north side of Homestake Road roughly 5 miles from the turn off of Highway 24, look for a small parking area on your left. The trail begins through small sage meadows and a few brilliant stands of aspen. As you continue to climb through spruce and fir, keep an eye out for the great views of the Sawatch Range.

If hiked during wildflower season, the wet meadows roughly 1/3 of the way up the trail are a great place to see larkspur, monkshood, and fields of elk lily. Late in the wildflower season, the Whitney Lake trail is one of the best hikes to see mariposa lilies as their fragile blooms remind us that the gentian are next to bloom, and flower season is on the way out.

Because this is a shorter hike, the lake sees lots of visitors over the course of the summer. Please respect the fragile ecosystem by only camping in designated sites, 100 feet from streams, lakes, and trails.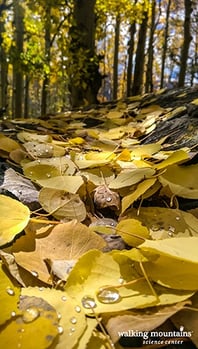 Stewardship Message:
As we hike around our beautiful valley this fall, the most striking colors we see are generated by carotenoids, chemicals that bring our aspens their amber glow. The brilliance of aspen fall color change is dependent on a variety of factors, one of those being the health and fitness of the individual trees or the stand. Carving your initials in the bark of an aspen tree is one way of ensuring the fitness, health and thus fall color of the aspen could be forever compromised. Tree bark is like our skin; it keeps the good stuff in, and the bad stuff out. Do your part this fall and encourage your neighbors, colleagues, and guests to the valley to leave a more positive impact on the natural wonders that brought most of us here in the first place.
Hike with Walking Mountains:
Walking Mountains Science Center leads guided hikes year round for people of all ages and abilities. To see a schedule, visit www.walkingmountains.org or stop by one of their Eagle Valley Locations:
In Avon at the Buck Creek Campus behind the hospital
On Vail Mountain at the Nature Discovery Center
At the Vail Nature Center near the Betty Ford Alpine Gardens