As the sound of summer campers exploring the Avon Tang Campus fades and the nights become cooler, the Youth Programs team is hard at work preparing for the upcoming 2022-2023 school year. Our Afterschool Programs Team is actively recruiting students for our Girls and Science and STEM program. Girls in Science (GIS) is open to Eagle County School District girls in grades 3-5, whereas our STEM program is open to all Eagle County School District middle school students.
Our Sowing Seeds Coordinator is not only preparing for the school year by harvesting cucumbers, tomatoes, and so much more from the Brush Creek Elementary Greenhouse, but she is also starting to teach all things gardening to Eagle Valley Elementary and Brush Creek students.
Our Environmental Pathways Program is gearing up to inspire local high school students to look towards environmental careers after graduation.
Furthermore, the Foley Graduate Fellows are currently engaged with staff training and our school field science programs officially begin on September 8th. Limited space remains, so be sure to ask your student's teacher if they are signed up for a program this year!
View a list of all Walking Mountains Afterschool Programs or register your student(s) for GIS or STEM.
For the Walking Mountains Youth Programs team, Fall often means more than changing colors of leaves, pumpkin carving, or apple cider. Instead our fellows are busy:
At the McCoy Fossil Beds explaining Earth's ever changing landscape to fourth graders or talking tectonic plates to middle school students,

Wondering about the weather with kindergarten students and analyzing astonishing adaptations of backyard plants and animals with first graders at the Avon Campus, and

Exploring ecosystems while investigating the impact of climate change with Red Hill 5th graders during a residential program held at the Walking Mountains Avon campus.
And of course, this is all in addition to engaging in their very own knowledge adventure through attending online and in person graduate courses, completing rigorous action research projects, and attending the annual Colorado Alliance for Environmental Education conference.
So, who are these stewardship superheroes, enthusiastic educators, charismatic changemakers, and frenzied fellows? Read on to meet the Youth Programs Team that will create positive outdoor experiences for your students all while meeting academic standards and creating a plethora of opportunities for everyone to connect more with nature.

MEET THE TEAM: YOUTH PROGRAMS LEADERSHIP TEAM AT WALKING MOUNTAINS
Chris Cohen (she/her) - Youth Programs Director and Graduate Faculty
Chris first came to Gore Range Natural Science School as an educator fellow in 2008 and rejoined the Walking Mountains team as Youth Programs Director in 2018. She brings to the team a wide variety of experiences teaching and managing at nature centers and science schools across the country. Chris loves to teach about the natural world and hopes to inspire students of all ages to become stewards of their own backyards. In her free time, Chris is excited to explore the Eagle Valley with her camera in hand!
Dustin Hall (he/him) - School Programs Manager
Dustin joined the Walking Mountains team as the School Programs Coordinator in 2018. He has devoted much of his time to learning more about the ecology of the Rocky Mountains, while educating youth about environmental responsibility and the overall balance of natural communities. Dustin enjoys bringing the magic to science, whether it is through hands-on learning or his personal favorite, gnomes. In his free time, Dustin is excited to explore the Eagle Valley on foot and on skis, go camping, or play disc golf.
Cassy Jo Brown (she/they) - Summer Programs Manager
Cassy Jo joined the Walking Mountains team as a Girls in Science instructor in 2018 and now serves as the Summer programs manager overseeing our Summer Science Camps. She values the way that spending time in nature can allow people to connect to the fullness of their being and believes that nature is the best teacher. When she's not at Walking Mountains, you can find Cassy Jo outside with her dog named Sugar Magnolia, skateboarding, skiing, hiking, mountain biking, camping, or gardening. She also loves creating art, writing poetry, and grooving to live music.
Erin Baumann (she/her) - Sowing Seeds Coordinator
Erin joined the Walking Mountains team in 2020. She brings passion to the Sowing Seeds program through sharing her love of good food and the outdoors. In her free time, Erin enjoys finding bodies of water to swim or kayak in, going hiking, playing in the snow, among other outdoor activities. When not outside she can usually be found in the kitchen cooking or getting better at baking bread!
Christy Belardo (she/her) - Girls in Science & Family Engagement Manager
Christy joined the Walking Mountains team in 2020. Her love for the natural world was inspired from hiking and backpacking in camps and programs with a local nature center at a young age through her high school years. Christy aims to incorporate many different types of art media into all of her science teaching and inspire young women in STEM-related fields. When Christy is not teaching, she can be found outside hiking, backpacking, camping, biking, snowboarding, snowshoeing, and on the river.
Lydia Delehanty (she/her) - STEM Curiosity Lab Coordinator
Lydia joined the Walking Mountains team as a Foley Graduate Fellow in 2020 and has recently accepted the STEM coordinator position. Her passion for the outdoors came from exploring the backroads and trails of rural southeastern Idaho, where she developed a strong sense of connection with the landscape. She is passionate about calling on her experience in the research world to engage students and show them that science is fun! Lydia enjoys hiking with her dog, playing music, and tending to her numerous houseplants.
Carrie Anderson
(she/her) - Environmental Leadership Manager
Carrie joined the Walking Mountains team in 2020. Carrie has a long and loving relationship with the natural world, spending her summers hiking and backpacking at Philmont in the Sangre De Cristo Mountains. She is excited to bring her skills and experience to support Eagle County youth in becoming active stewards of our local wild places. In her free time, Carrie tries to be outside as much as possible hiking, skiing, backpacking, snowshoeing, nature drawing, rock climbing, baking, reading, crafting, and spending time with family and loved ones.
MEET THE TEAM: 2023 FOLEY GRADUATE FELLOWS COHORT
Anna Kiewra (she/her) - Foley Graduate Fellow
Anna was born and raised in Lincoln, NE. She fell in love with nature at an early age, walking through the woods behind her house with her family. She is passionate about sharing her love of the great outdoors with others.
In her free time, Anna enjoys hiking, backpacking, soaking up the sunshine, eating delicious food, and playing outside.
Kaylyn Murphy (she/her) - Foley Graduate Fellow
Kaylyn is a born and raised New Yorker who grew up exploring the ecological gems of New York City and the Hudson Valley landscape. She frequently got out for camping trips and hiking up in the Catskills with family and friends. Outside of teaching, you can find Kaylyn hiking, drawing, cooking, journaling out in the landscape, or searching for cool mushrooms in the woods.
Rachel Juristch (she/her) - Foley Graduate Fellow
Rachel was born in Abington, Pennsylvania but spent her entire life growing up two hours west in Schuylkill Haven. Outside of work, you can often find Rachel outside exploring new trails, crocheting a blanket, or diving into a bowl of mac and cheese!
Natalie Neuwirth (she/her) - Foley Graduate Fellow
Natalie has spent most of her professional years working mainly as an overseas educator for travel companies. She is beyond grateful for the opportunity to help students grow in confidence and gain new perspectives. In her free time, Natalie enjoys anything to do with the outdoors: hiking, camping, biking, skiing, running, etc.
MEET THE TEAM: 2024 FOLEY GRADUATE FELLOWS COHORT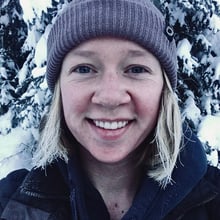 Katie Geraci (she/her) - Foley Graduate Fellow
Katie is a writer, educator and environmentalist in process. She is particularly interested in writing about regenerative, sustainable agriculture. Currently, Katie and her husband are building out a short school bus dubbed The Prancing Pony.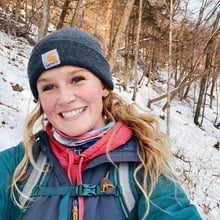 Keaton Cloven (she/her) - Foley Graduate Fellow
Keaton grew up in Castle Rock, Colorado, and enjoyed exploring the Rocky Mountains. However, over the last 4 years, she's gotten to explore other outdoor activities like canoeing, kayaking, and paddle boarding. Keaton is very excited to be back out west in her home state. A fun fact about Keaton is that she has a crested gecko named Reggie.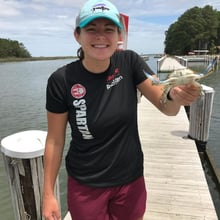 Katie Wareham (she/her) - Foley Graduate Fellow
Katie grew up in Maryland where her affection for the outdoors was fueled through exploration of the Appalachian Mountains and Chesapeake Bay. Katie has fallen in love with the Rocky Mountains and is thrilled to spend more time exploring and enjoying everything Colorado has to offer. Outside of work Katie enjoys getting lost in the woods, playing soccer, skiing, riding motorcycles, and discovering new interests!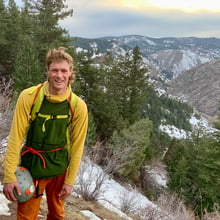 Ryan Walton (they/them) - Foley Graduate Fellow
Ryan has been living in different areas across Colorado for two years, but before that spent their life on the east coast. Ryan's favorite positions have been when they were guiding and teaching kids with a focus on recreation. Outside of work they spend a lot of time skiing, and when weather allows climbing and biking as well. Ryan also enjoys playing disc golf, board games, and making new meals.

Written by Dustin Hall. Dustin is the Walking Mountains School Programs Manager and is looking forward to a great 2022-2023 school year for teachers, students, and parents. When not managing school programs, you will find Dustin exploring all of the wild places Eagle County has to offer.